Rancho la Azufrosa, Aldama, Tamaulipas, Mexico
Reporting from Zacaton Basecamp
Today was an extremely busy day. With our crew now expanded to eight we held a team meeting at 8am and divided up the tasks for the day. Our crew contingent as of today includes:
Dave Wettergreen (CMU), George Kantor (CMU), Nathaniel Fairfield (CMU), Dom Jonak (CMU)
Marcus Gary (UT Austin)
Vickie Siegel (SAS), John Kerr (SAS), Bill Stone (SAS)
Following final checkout of the electronics pods and software communications interfaces we rolled the bot out of the "garage" and began loading the four orange syntactic flotation blocks (see photos).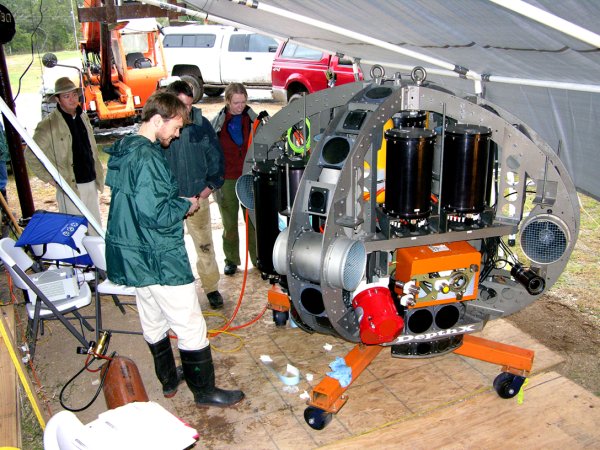 Above: Left to right: Alejandro Davila (owner of Rancho la Azufrosa), Nathaniel Fairfield, Marcus Gary, and Vickie Siegel look on as DEPTHX gets its final software verification.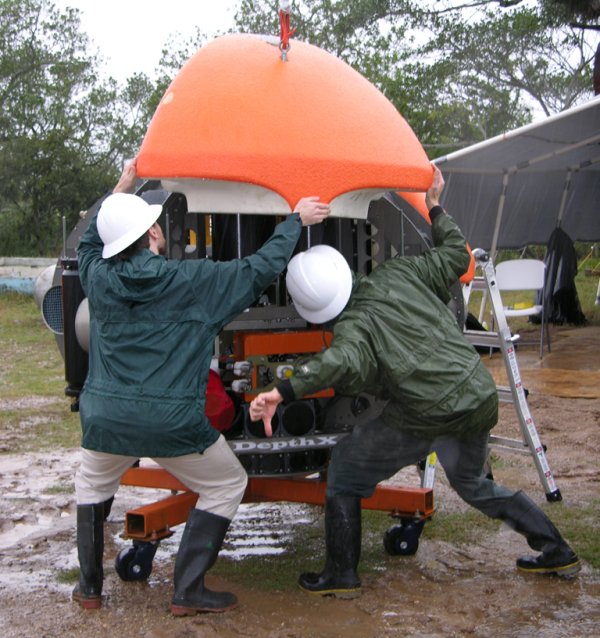 Above: Nathaniel Fairfield (left) and John Kerr load the syntactic foam flotation blocks.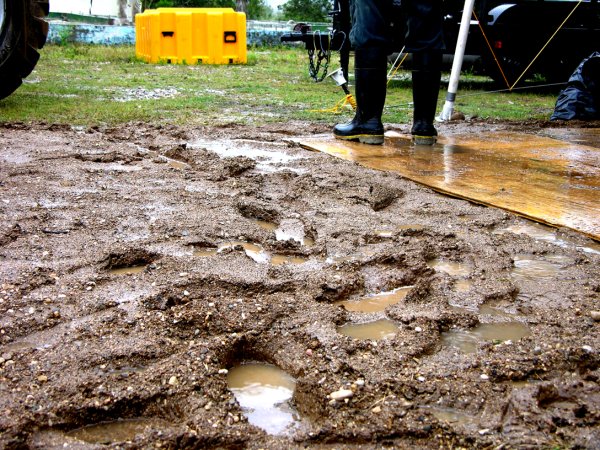 Above: the conditions we were working under.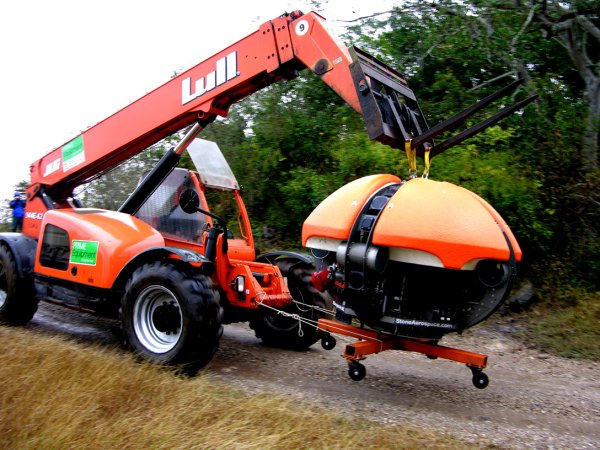 Above: Marcus Gary ably drives the bot to cenote La Pilita, a 4 wheel drive journey of about a kilometer which we successfully completed in about 30 minutes.
The syntactic is a special glass-sphere-filled foam that remains nominally incompressible down to a kilometer depth underwater. We use this to make the vehicle initially precisely neutrally buoyant (neither sinking nor floating). The entire operation was complicated by the strong, steady dounpour as the unusual weather persisted.
Once the syntactic was bolted down Marcus Gary drove the bot to cenote La Pilita where the first true exploration field tests would begin tomorrow. Divers Jim Bowden, Ann Kristovich and others have made initial reconnaissance descents that indicate that La Pilita seems to have a bottom at around 100m, but very little else is known because of the reduced visibility and limited range of diving lights
Thus, the geometry remains unknown as does the potential presence of passages that extend off the entrance shaft. Because of this, we have prepared a safety tether for the initial descents that includes a fiber optic communications line and a 1500 kg test dyneema retrieval line. The entire umbilical measures only 3mm in diameter. However, because of the potential for line snags we planned to feed the safety tether through a high pulley suspended over the center of the cenote.
Above: Vickie Siegel scales a few phone poles to install a high line support for the vehicle safety tether at cenote La Pilita.
To enable this Vickie Siegel used Yosemite style aid climbing equipment to scale a series of telephone poles that had been installed for lighting around La Pilita some years ago. Once the high anchor points were in place the pulley was drawn up through a central second pulley at the mid point of the horizontal high line over the cenote.
Bill Stone
Stone Aerospace