We are currently hiring for the following position!
Engineering and Operations Manager
Benefits: 401(k), 401(k) matching, health insurance, dental insurance, vision insurance, flexible schedule, paid time off
Job Type: Full-time
Job description:
We're looking for a new team member to be an Engineering and Operations Manager at our "Robot Ranch" just outside Austin. We are a small, cutting-edge intelligent systems and planetary robotics research lab working to expand the limits of human and robotic exploration. A candidate must be able to perform dedicated, high-quality work while fitting into our small, highly dynamic team. This is an on-site position in Austin, Texas but the ideal candidate will be available for domestic travel to periodically work with project collaborators.
Stone Aerospace provides equal employment opportunities to all employees and applicants without regard to race, color, religion, sex, sexual orientation, national origin, age, disability, or genetics. We value diversity and encourage people from all backgrounds to apply, even if you do not meet all of the preferred qualifications.
Position Primary duties:
Lead research and development activities relating to mobile robotic, spacecraft, and generalized intelligent systems
Oversee the day-to-day operations of an engineering team (6-12 individuals) consisting of highly skilled mechanical, structural, electrical, and software engineers
Provide technical feedback to the team
Work collaboratively with technical teams and management to align priorities between projects
Facilitate planning and other project-related cross-functional team meetings
Provide estimates for cost and effort for development work items
Effectively guide discussions and engage in conflict resolution when necessary
Oversee facility maintenance and upgrades
Lead proposal development and participate in general business development
Provide project management
Help maintain oversight of company finances and accounting
Actively manage staff development, including timesheets, time off requests, progressive discipline, and performance reviews
Required traits:
Results-oriented.
Ability to oversee and direct an engineering project from inception and planning through to completion and final reporting
Generalized experience in complex systems engineering, hardware design, fabrication, integration, and testing
Must have some business management experience (not necessarily an MBA)
Self-starting, with motivation to learn and act independently
Ability to communicate effectively among team members both on site and distributed
Willing to learn new skills, wear multiple hats, and work on different types of projects
Ability to work in a fast-paced dynamic environment
Demonstrate expertise in a variety of engineering concepts, practices, and procedures
A wide degree of creativity and latitude is expected
Must be a US Citizen or Permanent Resident
Please include a cover letter. In your cover letter, please describe your management and engineering approaches and experience. Particularly note experience of any type with: generalized intelligent systems design, fabrication, integration, and test; field robotics; high-voltage systems; fiber optics; high-power lasers; vacuum systems; cryogenic systems; underwater applications; spacecraft systems design; and flight systems and reentry systems design
View full listing and apply on Indeed.
---
Benefits
Stone Aerospace provides our employees with competitive benefits including: Medical, dental, vision, life, matching 401K, flexible schedule, and paid time off.
View United HealthCare's Transparency in Coverage Guide.
---
Thanks for your interest in what we do!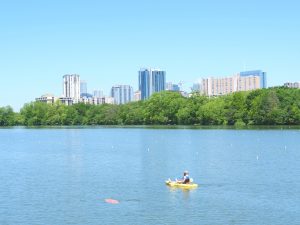 Testing our SUNFISH® AUV at Lady Bird Lake in Austin.
Explore some 3D maps created by SUNFISH!