We are currently hiring for the following positions!
Electrical Engineering Technician
Salary: $55,000 – $85,000 a year
Benefits: 401(k), 401(k) matching, health insurance, dental insurance, flexible schedule, paid time off
Job Type: Full-time
We're looking for an Electrical Engineering Technician to join the team at Stone Aerospace and affiliated companies in Austin, TX. We are a cutting-edge small business working to expand the limits of human and robotic exploration, as well as bringing new technologies to market. Most work will be at our "robot ranch" just outside of Austin, but motivated, qualified team members are selected to participate in our field expeditions to lakes, caves, the high seas, the Arctic, and Antarctic. The person in this role must be able to perform high-quality work while fitting into our small, highly dynamic team. Stone Aerospace provides equal employment opportunities to all employees and applicants without regard to race, color, religion, sex, sexual orientation, national origin, age, disability, or genetics. We value diversity and encourage people from all backgrounds to apply, even if you do not meet all of the preferred qualifications.
Job description:
Position Primary duties:
Responsible for fabrication, assembly, and testing of advanced electrical and electronic systems.
Responsible for documenting and reporting on designs and testing.
Assisting in assembly of components and systems.
Assisting in running lab tests, and compiling and analyzing test data.
Helping to maintain and organize lab, parts, and tools.
Secondary duties:
Aiding in facilities maintenance and improvements (e.g. helping to install new equipment).
Required traits:
Hands-on experience building electrical and electronic prototypes.
Experience soldering through-hole and surface mount components.
Experience building wiring harnesses and connectors.
Willingness to provide consistent, dedicated, quality fabrication and integration of one-of-a-kind electrical and electronic components and systems.
Ability to solve complex problems during assembly and test.
Works in a meticulous and thorough manner, pays attention to detail.
Results-oriented.
Ability to own a piece of a project and see it to completion.
Motivation to learn and act independently with little supervision.
Ability to communicate effectively among team members on site and distributed.
Willing to wear multiple hats and work on different types of projects.
Ability to work in a fast-paced dynamic environment.
Desirable traits:
Experience with integration of multiple electrical components (boards, processor stacks, power electronics, sensors) into integrated systems.
Experience creating printed circuit board schematics and layouts.
Experience with any of: high-voltage systems, fiber optics, high-power lasers, vacuum systems, cryogenic systems, or underwater applications.
Experience with a start-up environment and fulfilling multiple roles on a day-to-day basis.
Please include a cover letter. In your cover letter, please indicate any specific training or certification in electrical and electronics fabrication you have, as well as any experience in field robotics or underwater systems.
View full listing and apply on Indeed.
---
Benefits
Stone Aerospace provides our employees with competitive benefits including: Medical, dental, vision, life, matching 401K, flexible schedule, and paid time off.
View United HealthCare's Transparency in Coverage Guide.
---
Thanks for your interest in what we do!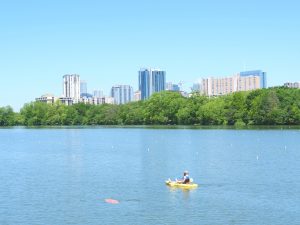 Testing our SUNFISH® AUV at Lady Bird Lake in Austin.
Explore some 3D maps created by SUNFISH!