Current Openings
Project Manager
Job Type
Full-time
Qualifications
US work authorization (Required)
Full Job Description
We're looking for a Project Manager to join the team at Stone Aerospace and affiliated companies in Austin, TX. We are a cutting-edge small business working to expand the limits of human and robotic exploration, as well as bringing technology to market. This is a leadership position for our team that will ensure projects are delivered on schedule, on cost, and at the highest standards of quality. The person in this role must be able to perform high-quality work while fitting into our small, highly dynamic team. Most work will be in Austin, but motivated, qualified team members are selected to participate in our field expeditions to lakes, caves, the high seas, the Arctic, and Antarctic. Stone Aerospace provides equal employment opportunities to all employees and applicants without regard to race, color, religion, sex, sexual orientation, national origin, age, disability, or genetics. We value diversity and encourage people from all backgrounds to apply, even if you do not meet all of the preferred qualifications.
Position Primary duties:
Manage several multi-year projects
Continuously monitor tasks and team assignments
Actively manage scope
Maintain project schedules
Communicate, both written and verbally, with all stakeholders at all levels
Work with management to develop resource needs
Ensure all deliverable for each project are met
Maintain and contribute to the company's Project Management System
Define and track Key Performance Indicators with management
Secondary duties:
Contribute to the company's continuous improvement processes
Aid in proposal preparation tasks (preparing budgets, work breakdown structures, text descriptions)
Required traits:
5 years of project management and related experience
Familiarity with multiple project methodologies including waterfall and agile
Experience completing projects within scope, budget, and schedule
Excellent communicator
Strong interpersonal skills
Ability to help solve complex problems
Ability to own a project and see it to completion
Ability to work in a fast-paced dynamic environment
Desirable traits:
Experience with remote field work in the Arctic, Antarctic, marine, or other outdoor environments
Project Management Professional (PMP) certification
Experience with a start-up environment and fulfilling multiple roles on a day-to-day basis
Experience with Google Workspace and Smartsheet is a plus
Benefits:
401(k)
401(k) matching
Dental insurance
Disability insurance
Employee assistance program
Flexible schedule
Health insurance
Health savings account
Life insurance
Paid time off
Parental leave
Professional development assistance
Retirement plan
Vision insurance
APPLY NOW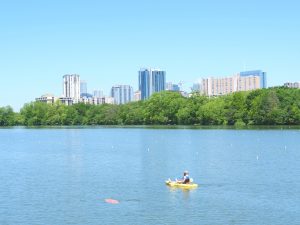 Testing our SUNFISH® AUV at Lady Bird Lake in Austin.
Explore some 3D maps created by SUNFISH!