Rancho la Azufrosa, Aldama, Tamaulipas, Mexico
Reporting from Zacaton Basecamp
We awoke early to the knowledge that the bot was dead until we resolved the disconnect board issue. John Kerr began a continuous stream of emails with Nigel Jones back in the states while Vickie Siegel, myself, and two visitors coming north from the 2007 Tabasco caving expedition made our way into Aldama (the nearest town) in search of a Mexican cell phone to see if we could get voice communications out from the ranch. We considered Skype but it doesn't work well when run off satellite relay (we were using a customized version of a HughesNet link).
Above: Nacho, the main ranch hand at Rancho la Azufrosa, brings over one of many loads of sand used to level out the "bot garage" so that sheets of plywood could be laid down to serve as a surface for maneuvering the bot (it's lower orange frame rides on four heavy shop casters, but these need a flat surface to work on.
So off we went while John continued his asynchronous stream of emails with Nigel (our lead embedded systems electrical engineer). A plan was developed to produce more boards. Component parts were FedExed to Jones and he spent most of the day assembling the prototype boards – a tedious process that involved placing 2×3 mm surface mount chips on the board and using a large magnifying lens to help with guiding a fine point soldering iron to get all the chip pins properly soldered to their respective pads on the board. Nigel also programmed the onboard logic chips and then re-FedExed them to Harlingen, Texas where, if all went according to plan, they would be picked up by Marcus Gary who was due to begin driving back on February 2.
Bill Stone
Stone Aerospace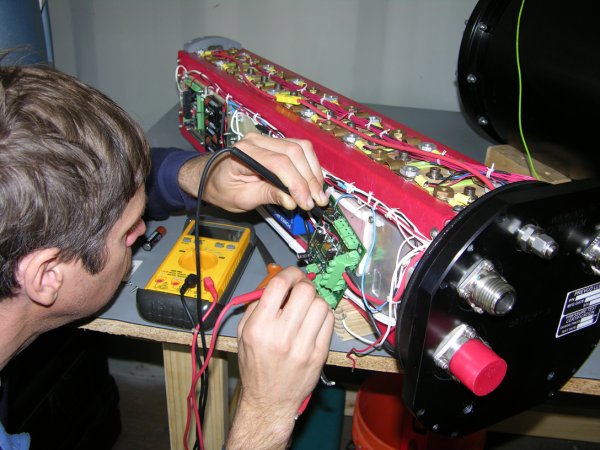 Above: John Kerr debugs the disconnect board following email discussions with Nigel Jones.