Rancho la Azufrosa, Aldama, Tamaulipas, Mexico
Reporting from Zacaton Basecamp
Robin Gary, Marcus Gary and John Kerr make it back across the border into Mexico without a hitch.
Today was the day to make the 12 hour drive from Austin back to Rancho la Azufrosa in Tamaulipas, Mexico. John Kerr, Robin Gary and Marcus Gary loaded up 2 trucks with food, computers, and a ton of other miscellaneous items (including over 1000 pounds of books and journals being donated to a Mexican University from The University of Texas at Austin Geology Library. We made it out of Austin by 8:30 AM, and had a rather uneventful drive down. Quite a difference from our initial trip in late January. The crossing at the border went without any problems, and it was green lights all the way! We had a nice dinner at Resturante Tampico in the town of Sota La Marina and arrived at Rancho la Azufrosa by 9:30 PM. A few hours were spent unpacking food and storing it in the deep freezer, then we headed to bed to get some sleep for the very busy day ahead.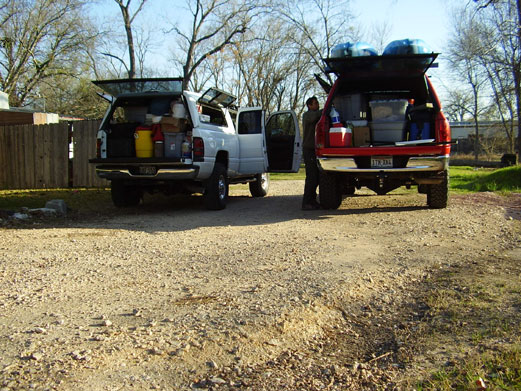 Trucks being loaded in Austin Wednesday morning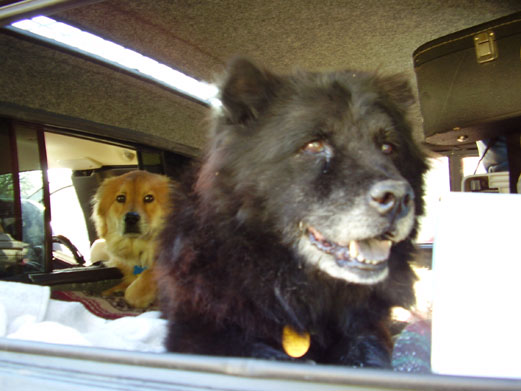 Old friends join the team. Seasoned Zacatón travelers Wyle and Mona load up for the trip. Mona has been traveling to Rancho la Azufrosa since 1995, making over 40 trips to the site. Wyle joined the crew in 2002, and has made almost 20 ventures.