Rancho la Azufrosa, Aldama, Tamaulipas, Mexico
Reporting from Zacaton Basecamp
Back in the Water
John Kerr unhooks the bot from lifting slings as DEPTHX gets wet again in La Pilita. The first day back in the water saw positive success in the operations development of DEPTHX.
Morning Briefing
The team awoke at daybreak and assembled in the Rancho la Azufrosa Palapa (AKA Palapa Internet Cafe) to discuss the plan for the day. George Kantor wrote up the organization schedule for the goals, discussed what needed to get accomplished, and took questions. Most headed to La Pilita by 8:30 to get moving with the tests.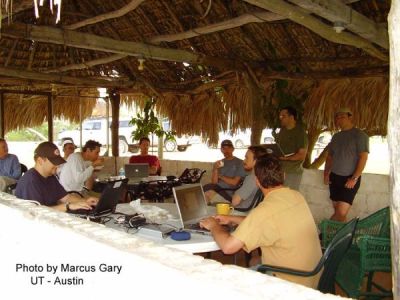 The DEPTHX team meets in the Palapa (left) to go over the daily plan (right), as shown by George Kantor.
Morning OPS
Update to come
The group breaks for lunch at La Pilita with the local menu favorite of tacos.
Afternoon OPS
Following lunch, the group began repairs and minor modifications of the science payload. A hydraulic leak was located and fixed, and a rebuilt sulfide sensor was installed on the bot. This work was led by Ernest Franke and Ian Meizen from Southwest Research Institute