West Lake Bonney, Taylor Valley, Antarctica
Reporting from Blood Falls Basecamp
Today's profiler mission, Mission 5, took us towards the lake shore south of the Bot House. Our aim was to fill in the gap between where we had gone on Mission 3 and our keep-out zone. The keep-out zone is the area around John's limnology tent, where we know there are active experiments hanging down into the water. To avoid entangling the bot or disturbing the experiments with either the bot or the fiber, we've had to designate a wedge of the lake as a keep-out. Unfortunately this wedge means that there are a few grid points that we won't be able to get to, even though they are within our range.
We ran through our launch checklist and dropped the bot in the water. The weather was much nicer today and the mission went quickly and cleanly. There was some worry that, even with our conservative stand-off distance from the limno tent keep-out area, we might snag something under the ice on our way back to the Bot House, but Leah reported that the fiber was feeding back in as it should and the bot came home without incident.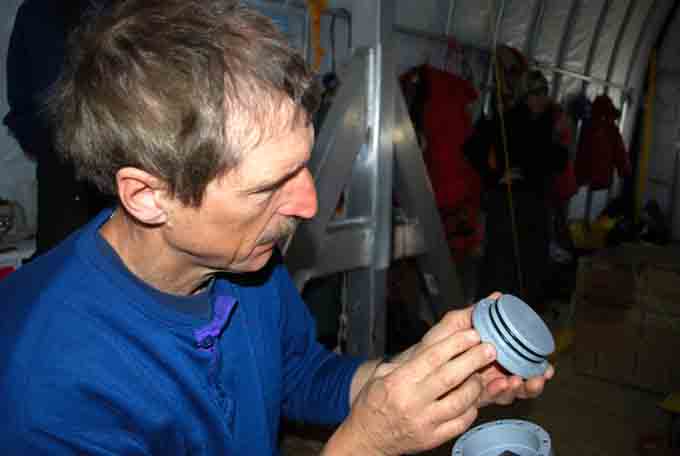 Going through the launch checklist, Bill inspects the o-rings before sealing up the radio beacon battery compartment.
Later that day, Maciej returned to the Bot House carrying a long pipe. He had spent the afternoon working around the limno tent and had encountered one of the experiments that defined a part of our keep-out zone, an ablation stake. It had ablated out of its spot in the ice and was lying on the surface, so he removed it. While there are still experiments to avoid in the keep-out zone, it is nice to know that there is one less object in the lake to trip us up.
Maciej returns to the Bot House with one of the obstacles we have been avoiding near the limno hut, an ablation stake that has ablated out of the ice. It may be an object like this that snagged us a few days ago.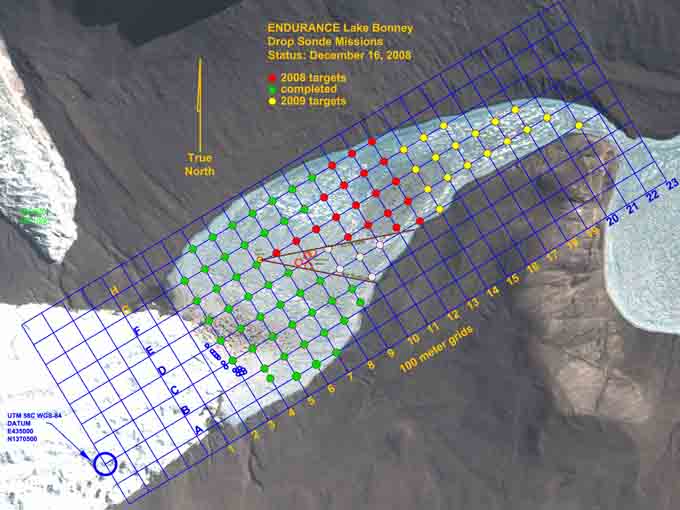 Our status at the end of Mission 5.
Reporting by Vickie Siegel