West Lake Bonney, Taylor Valley, Antarctica
Reporting from Blood Falls Basecamp
What a difference a day makes. Kristof was the first one up and about this morning and he immediately set out on a mission. He drove the ATV from our somewhat sheltered camp on the shore to our Bot House site on the ice. After a brief stop at the platform to assess the situation, he returned to camp directly to report his findings. The rest of us awoke to the sound of two cooking pots banging together and Kristof shouting, "Everybody up! The wind has died down! Let's get to work!"
We were all still exhausted from our efforts yesterday but this news rousted us from our sleeping bags. As we hurriedly ate our breakfasts and gulped down some of Bob's coffee we wondered, "Can we do it? Can we get the rest of the tent up before the wind kicks in again?"
We marched out to the melt hole and found that yes, it was much calmer out there. But was it enough? With trepidation we unpacked the liner tarp and once again tied on the ropes and tossed them over the frame. With the first few tugs on the ropes we found that things really were much easier. We had the liner tarp up and secured and the end walls in place in no time. We had just started to pull the middle insulating layers onto the tent when a helo carrying our carpenter friends from McMurdo arrived to help us. From there on out the Bot House was abuzz with productivity. It was difficult to even keep track of all the activities that were happening simultaneously the insulating blankets and outer cover were pulled over the tent and secured; inside, the bot's lifting gantry and hoist were assembled; electrical outlets were installed; heaters were brought in and propane tanks were staged outside; generators were set up; communications technicians arrived and set us up with solar powered wireless internet; the crust of ice that had refrozen on the surface of the hole was melted and chipped out; stairs up to the front door were installed; shipping containers full of our equipment were sorted and the contents brought inside; and finally the shipping containers themselves were pulled in close against the outside walls and secured with cargo straps to ensure that nothing could blow away.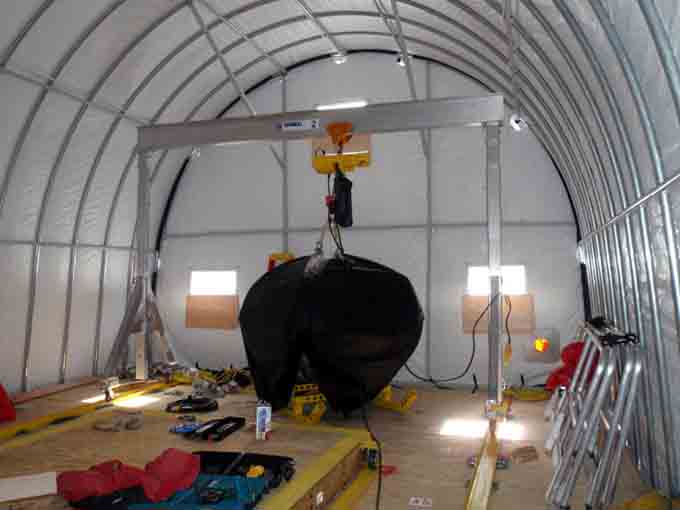 The gantry and hoist are set up inside our completed tent.
Maciej starts the melting coil on the refrozen cap on our melt hole.The steam generated from this made the Bot House into a sauna for a few minutes.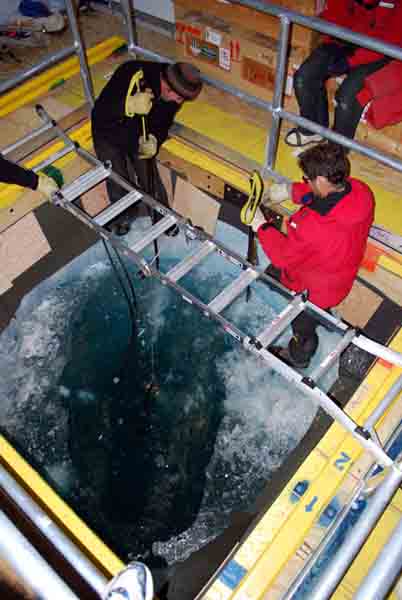 Once the melter punched through the frozen cap, Maciej and Johnworked on chipping out some of the ice around the sides of the hole.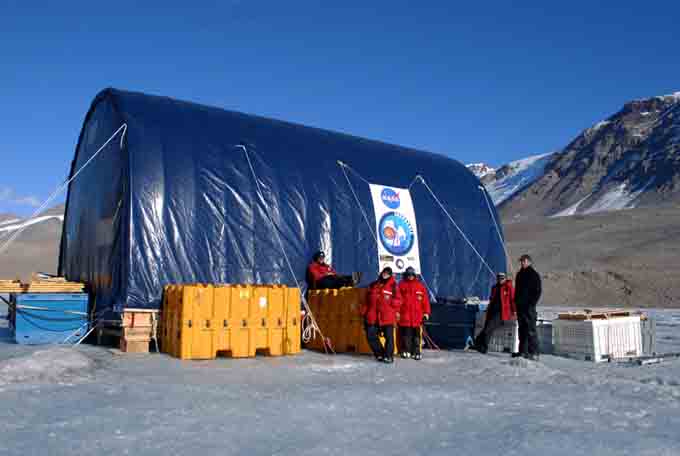 The Bot House is open for business! Bob, Vickie, Shilpa, Bart and Peter (left to right) pose in front of the haven.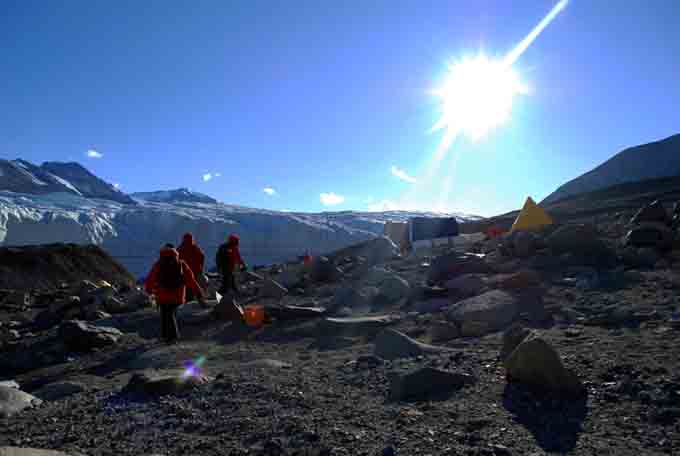 The commute back home after a satisfying day.
Tired but happy we plodded home slowly tonight. It was a good day.
Reporting by Vickie Siegel