West Lake Bonney, Taylor Valley, Antarctica
Reporting from Blood Falls Basecamp
Recovered and ready to try another approach to the glacier face we sent the bot to the middle section of the glacier face, just south of our run on Friday. This would take the bot into the iceberg zone so the plan was to stop the vehicle periodically and do a sonar sweep to look for the subsurface portion of the icebergs. If we could, we would drive the bot into the channel between the glacier face and the icebergs.
To our surprise, the sonar scans showed nothing under the ice in the area where icebergs stood 2 meters high on the surface. It would seem that either the warm water entering the lake near the glacier has melted the subsurface portion of the bergs or that the surface bergs were formed ice that spalled off the glacier face never broke the surface of the lake ice in the first place. In any case, we were happy that this hypothesized snag hazard didn't exist.
The water continues to be murky so we were unable to take any visual images of the glacier but we racked up a ton of sonar data on the glacier face. With today's data and the data from our first glacier mission combined, we have mapped half of the glacier face so far.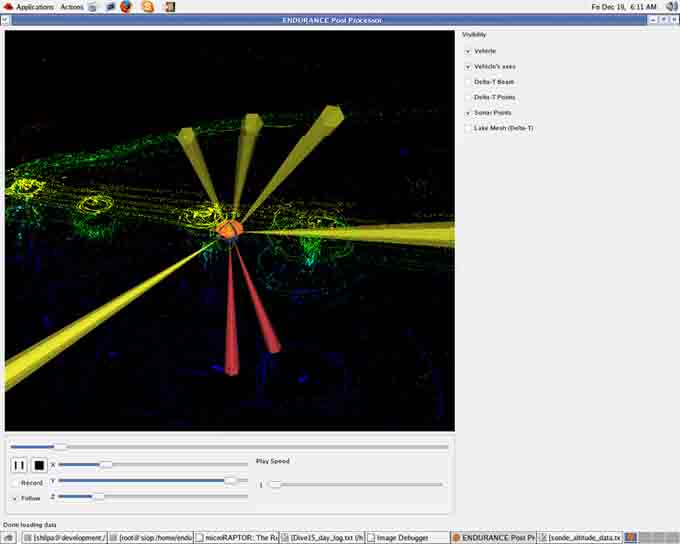 A screenshot of the visualizer program that shows us where the sonars are getting hits.
Reporting by Vickie Siegel