West Lake Bonney, Taylor Valley, Antarctica
Reporting from Blood Falls Basecamp
We returned to the floor supports we placed yesterday. To ensure that our finished floor sits level, Bill and Peter took some time to measure the height of each floor support as the others placed the 8″x8″ timbers that hold the floor panels. With their measurements, we shimmed some of the timbers with plywood to bring them to the proper height. The 8×8's are held in place end to end by steel moment plates. We attached these and then added 2×4 spacers that keep the four rows of 8×8's parallel.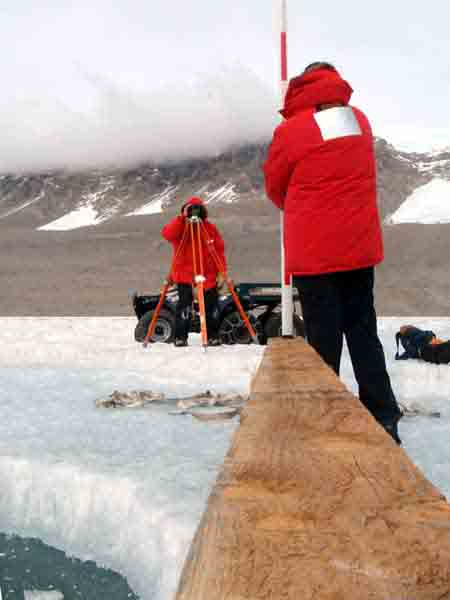 Peter and Bill level the timbers.
The 8×8 timbers are in place and ready for the floor panels.
With the 8×8 timbers in place, our next move was to start placing floor panels. During our test-build of the Bot House in McMurdo, we learned that the floor panels are heavy (~500 lbs), but manageable when many people work together to lift them. The difference between our test build and the real thing, however, is that here we are working on the uneven and slick surface of the lake ice instead of the flat gravel yard at McMurdo. Slowly and cautiously, we inched the first few platform sections across the ice until Maciej brought our attention to another tool we have at our disposal here: the ATV. The new procedure became to have several lifters carefully place a platform section onto the bed of the ATV and then walk alongside the vehicle to make sure it didn't slide off the bed as someone drove the ATV to the platform-in-construction. From there it was easy to transfer the section from the ATV to the 8×8's.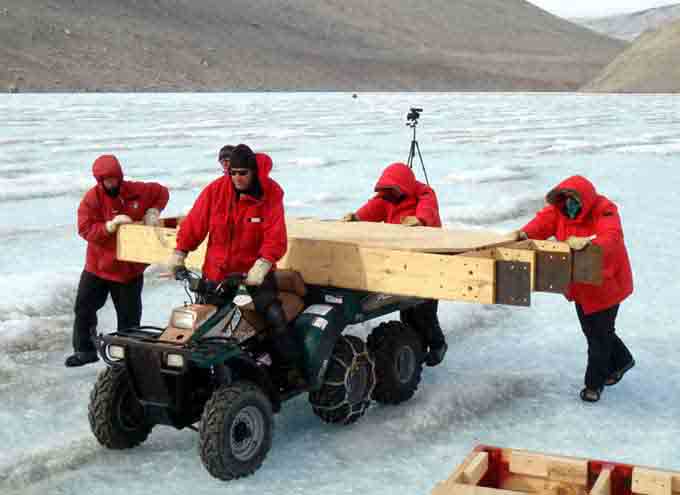 Moving the floor panels with the ATV was much easier than lifting them.
As one crew moved the floor sections into place, other folks worked to line the panels up and bolt them to each other. Then the floor sections needed to be anchored to the ice. For this Peter drilled two holes into the ice at the end of each panel. The holes intersected under the surface in a V-configuration. We threaded rope through the ice holes and tied off to eye bolts in the sides of the panels. The finishing touch for the day was to secure the base frame of the tent to the edge of the floor.
Peter drills holes in the ice to anchor the platform.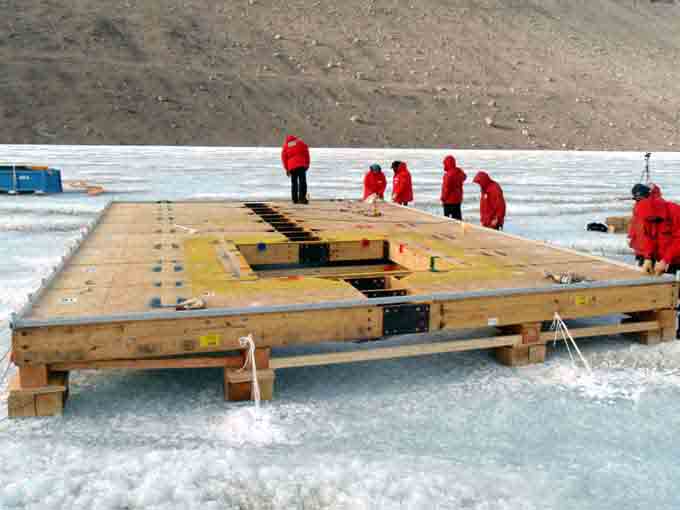 A completed floor at the end of the day.
We are ready to build the tent after the bot arrives tomorrow!
Reporting by Vickie Siegel