West Lake Bonney, Taylor Valley, Antarctica
Reporting from Blood Falls Basecamp
Things have been going very well with our fieldwork for the last two days—the weather has been pleasant, we made good progress on the Bot House platform and we've even had some tasty camp dinners in our mess tent. One could almost forget we're in Antarctica… Well, today we got a little reminder. Late last night several of us woke up to find the walls of our tents whipping and popping in our faces, straining against the tent poles. The mild wind from yesterday has built up into violent gusts and from what we hear on the VHF radio, the weather in McMurdo is deteriorating, too. As a result, no helos are flying today and the official operations in McMurdo, helo and otherwise, will be shut down Saturday and Sunday for the Thanksgiving holiday. After all our rush, the bot won't be delivered until Monday.
Of course in the field there is always work that needs to be done so we used our new-found free time to work on mission planning and choose the spot for our second melt hole. Lake Bonney lies in the bottom of the Taylor Valley and the lake's shape is dictated by the valley walls. It is narrow and long, too long for us to drive the vehicle to all points in the west lobe of the lake from a single point, so we will work from two different ice holes – one close to the Taylor Glacier face and the second further east. About halfway through our fieldwork schedule we will move the bot house to the second hole but first we need to make the hole.
To initiate us as true scientists in the Dry Valleys, Peter decided that we needed to drill the pilot hole in the ice. Annika was our designated "drill sergeant" and showed us how to operate the Jiffy drill, a machine that requires two people and a drill bit 10 inches in diameter. After we drilled the hole, Peter, Maciek and John Priscu returned and helped us place a melter in our pilot hole. Someone has to return to refuel the generator here every 4 or 5 hours and in two days we should have another 8′ hole in the ice.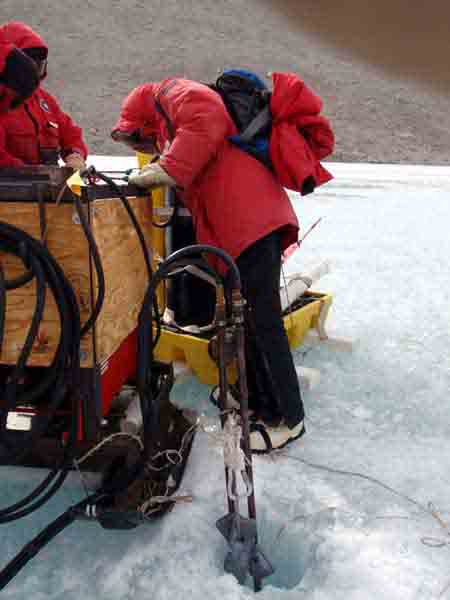 The trombone melter in the pilot hole we drilled.
Peter, Bill and Maciej mark the perimeter of the 8′ diameter hole we will melt out.
Reporting by Vickie Siegel