West Lake Bonney, Taylor Valley, Antarctica
Reporting from East Lake Bonney Basecamp
Sunday is "brunch" day at McMurdo Station, so the team met for breakfast at 11am before going their separate ways to begin sorting out their various chores and responsibilities. Four of our crew (Peter, Shilpa, Kristof, and Chris) were scheduled to leave on the C17 flight on the 8th, in just two days, so they were more pressed for time than the rest to resolve any open issues in town (a lot of equipment had to be returned to various labs; offices had to be cleaned up and gear stowed; data had to be backed up; and any excess personal cargo had to be boxed and shipped).
Peter Doran and Bill Stone presented the Sunday Night Science Lecture at McMurdo to a crowd of about 150 in the main dining hall in Building 155. These lectures are a frequent place to catch up on what other field researchers have underway, what conditions exist out on the ice, and what logistics problems are currently at hand. Even as our team was leaving Taylor Valley, other crews were coming in for their 2-month projects.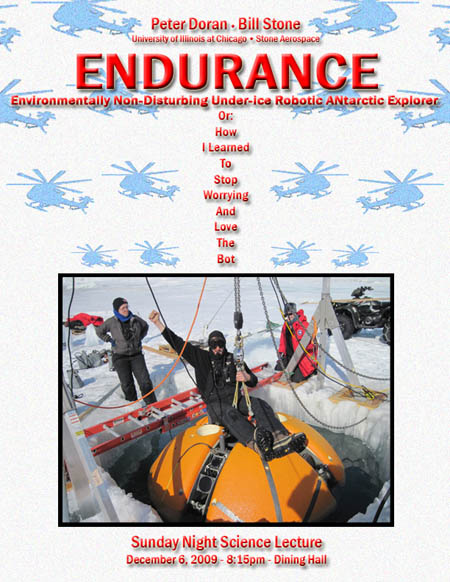 Sunday Night Science Lecture series poster for December 6, 2009.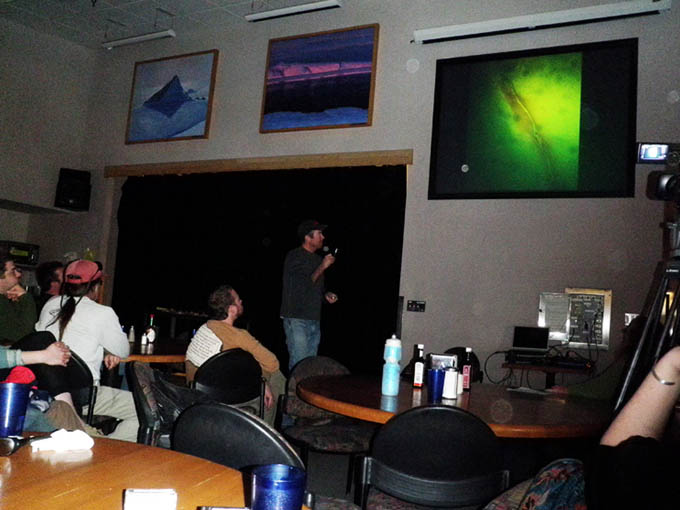 Peter Doran describes some unusual Sonde down-look camera images from West Lake Bonney at the Sunday night lecture.
Reporting by Bill Stone