West Lake Bonney, Taylor Valley, Antarctica
Reporting from East Lake Bonney Basecamp
Most people did not get to bed until 3 or 4 am so it was a welcome sight to find John Priscu up at noon cheerily making crepes for everyone who walked in the door of the Jamesway at East Lake Bonney. Today was an off day. Many people caught up on their blogs… a luxury since our science days here are excessively long and most people are dog-tired by the time dinner is over. Somehow sitting down to write at 2am after 18 hours on your feet is difficult. A tent and sleeping bag seem more appealing. It was also a chance to look through data from the past several days at a less break-neck pace.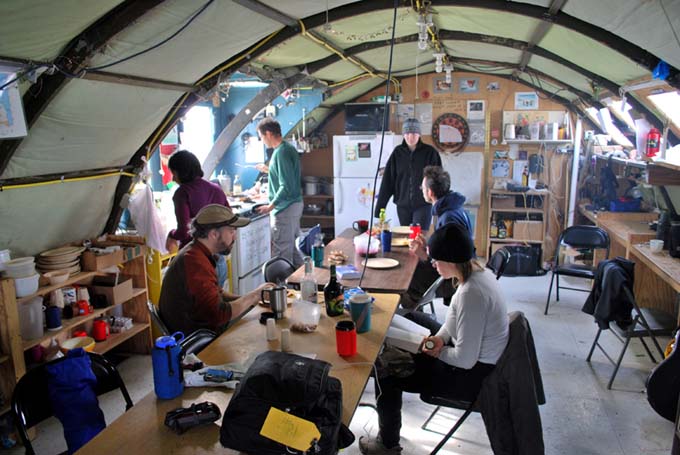 John Priscu hands out crepes in the Jamesway.
Shilpa, John, and Emma eventually went on a hike up to the ventifact field some 600 meters vertically above camp. Kristof went for a run along shore to the east. Chris built two snowmen (given the rare snow storm of yesterday). Vickie read Memoirs of a Geisha. In training, Bill did 155 pushups. Most watched an "Austin Powers" film following dinner.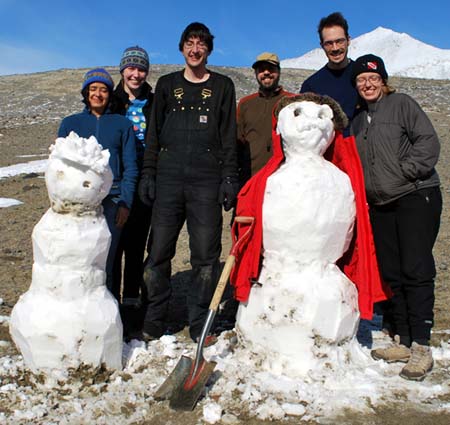 Shilpa, Emma, Chris, Bart, Kristof, Vickie, and Chris's creations "Frostie Boy" (left) and "Dr. Stone." By the time Chris got to work most of yesterday's snow storm had ablated.
Reporting by Bill Stone