West Lake Bonney, Taylor Valley, Antarctica
Reporting from East Lake Bonney Basecamp
Most members of the team were up by 11am (having gone to sleep around 4am) and congregated in the main Jamesway structure at East Lake Bonney camp. Today was a rest day for most given the non-stop pace of the past week. Also, after a long, long dry spell the internet was suddenly up… which had the effect of reducing what would normally be animated chatter around the breakfast table to a cluster of isolated, silent individuals intently staring at 10 separate laptop screens. Maybe it was better without internet?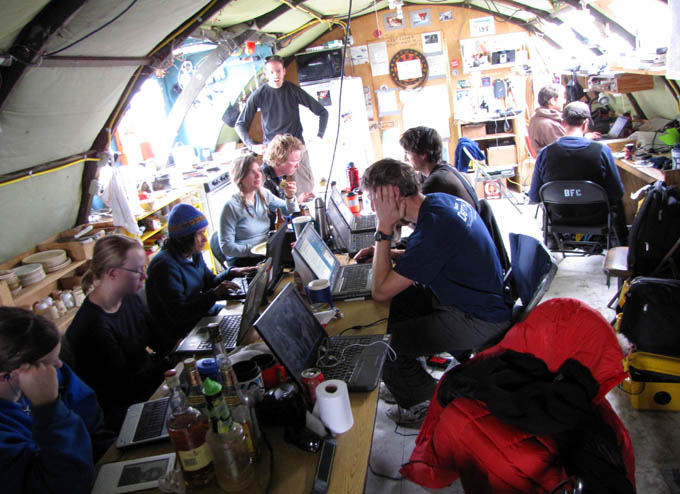 The impact of the internet on Antarctic scientist sociology. After 14 days without internet the team catches up on email. Clockwise from lower left: Emma, Vickie, Shilpa, Loralee, Jim, Kristof, John, Peter, Chris, and Bill.
Several people took long hikes up to the ventifact fields high above camp to the south. This is a plateau-like shelf some 500 meters vertically above the lake where wind-eroded, bizarrely shaped granite blocks sit atop a field of red and black colored volcanic clinker. There were still residual pockets of snow surrounding the ventifacts.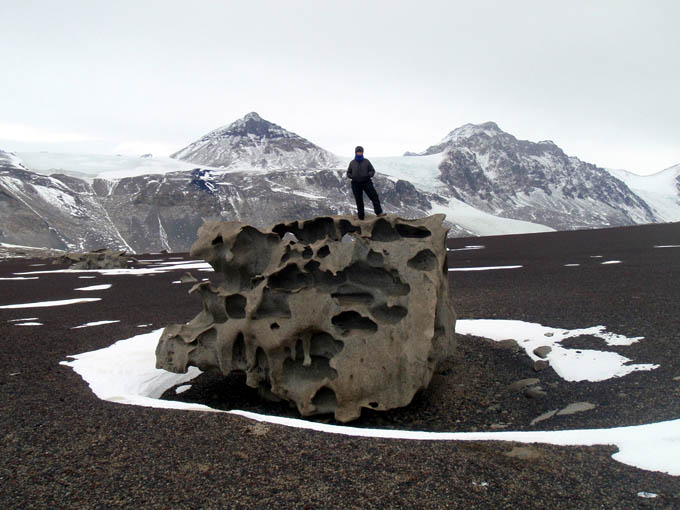 Vickie stands atop a striking ventifact on a wide shelf of volcanic cinder some 500 meters above East Lake Bonney. In the background the pyramidal-shaped Matterhorn peak is at left center while Peak 1882 is to the right. The internet relay station for Taylor Valley lies atop the latter and any severe weather that blows through can knock it out for weeks. The only access is via helicopter and the maintenance crews must wear harnesses and clip into fixed ropes—the south face drops precipitously for over a kilometer immediately adjacent the relay box.
While those on the marathon sonde mission of yesterday took the day off, John Priscu, the recipient of the data, spent the entire day reducing the results of the 39 casts with 9 instrument logs per cast. At 10:20pm he turned from his work with a grim look on his face and announced that all data beyond station BF15 were compromised. Well, not all—just the ones that depended on the water pump to flush the sensors. Apparently the BF15 cast had plugged the CTD water pump when it touched the silt floor and although the readings looked nominally correct during the mission it was now clear that they had not been updated due to the clogged pump. The import of this message hit us all: we would have to re-run the mission for all stations beyond and including BF15. Not a good day for Team ENDURANCE.
Reporting by Bill Stone