West Lake Bonney, Taylor Valley, Antarctica
Reporting from East Lake Bonney Basecamp
Mission Objective: recover, process data, go on hikes, eat lots of food.
This was our "Thanksgiving" day (the real holiday had passed several days ago while we were in the middle of key missions that we wanted to get under our belt before taking another break). Everyone slept in. The crew was up around 11am. Peter worked on his December 6 lecture back at McMurdo station. Doing similarly, Bill reduced data for the narrows and the November 26th glacier exploration to generate cross sections and movies for the lecture.
Several people went on hikes—it was a beautiful sunny day with little wind, a rarity for Taylor valley. Bill and Vickie hiked 3 kilometers past the east end of East Lake Bonney. They met Shilpa and Emma on their way back after having retrieved an ATV they had left at the east end of the lake. When they returned they found the vehicle pointed in the reverse direction from where they had left it. This was Shilpa's practical joke. The four of them rode home together on the ATV. Meanwhile, Kristof hiked to the ventifacts, descending to the east end of the lake and then jogging back to camp.
Dinner was on at 5:30pm—way early for us—and there was lots of it: turkey, gravy, dressing (both vegetarian and meat), peas, corn, roasted veggies, kumara (New Zealand sweet potatoes), croissants, and pumpkin and cherry pies, all fresh baked by the team.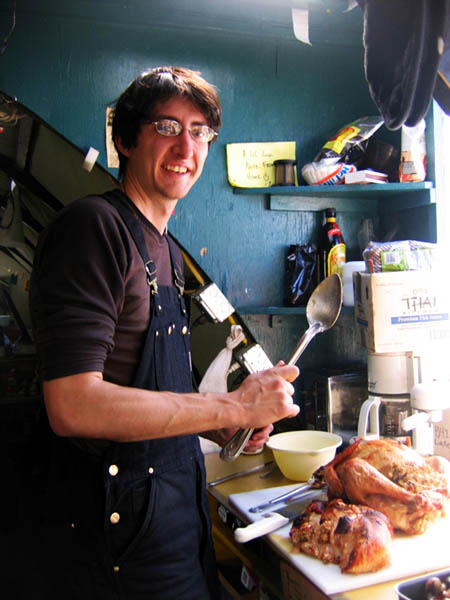 Chris supervises the carving of the Thanksgiving turkey at East Lake Bonney camp.
The team digs into a fine meal. Clockwise from left: Emma, Vickie, Chris, Rachel, Peter, Kristof, Shilpa, Bill.
Reporting by Bill Stone