West Lake Bonney, Taylor Valley, Antarctica
Reporting from East Lake Bonney Basecamp
This morning we set straight to work on the ballast and got the bot neutrally buoyant pretty quickly. After the pre-dive check we lowered the bot into the water, ready to swim and perform some tests away from the hole. As the bot descended to the lower reaches of the hole for the first time this year it unexpectedly stopped just before it reached open water. We pulled out Maciek's "fish cam"—a small underwater camera, camouflaged to look like a perch, with a live feed to a black and white monitor—and confirmed our fear. The bot was stuck. The hole had started to refreeze and now the last half meter was too narrow.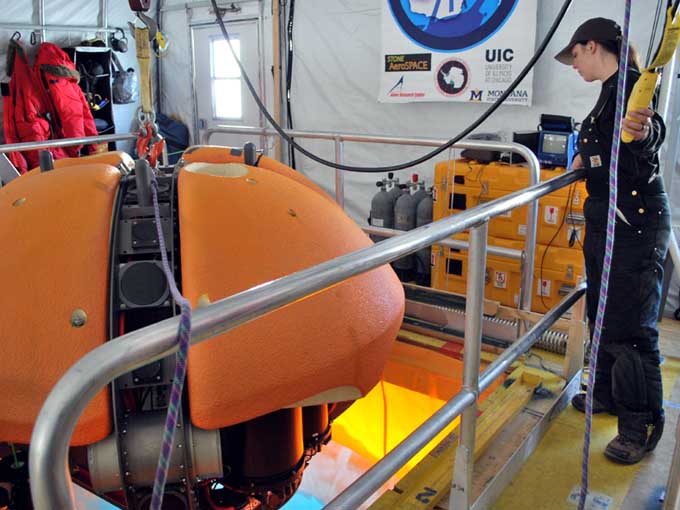 Rachel lowers the bot, complete with syntactic this time, into the melt hole for its first real swim this year.
Fortunately, it was only stuck in one direction, that is, it could not go down but it could still come up. So we brought the bot back to the surface, put the hotsies back in to work on the worst spots and ate lunch while debating our next move. It was decided that Bill would dive in and try to chisel the bottom edge with an ice chipper bar. After some hard work on Bill's part, sure enough, good sized ice chunks started to float up and bob on the surface of the hole. After he made a couple circuits around the bottom edge, he came back up and we pulled him and the new ice chunks out.
The products of Bill's underwater chipping efforts float to the surface to be scooped out.
Hopeful that Bill's efforts widened the hole enough for the vehicle to pass, we dunked the bot again. Luck was with us and the bot made its way through the hole and down and under the ice. We proceeded to set up the visual homing beacon, a flashing light suspended over the melt hole. With the light in place, we ran some visual homing tests (for more on Endurance's visual homing feature, see last year's blog) and tested other basic behaviors: navigation, station-keeping and ice-picking. Everything is up and running!
Bill adjusts the visual homing light so that it points straight down the melt hole.
Shilpa inspects the placement of the visual homing light. The bot sees the blinking light with the upward looking camera at the top center and uses this light to navigate its way straight up the narrow hole.
Reporting by Vickie Siegel