Antarctica
Reporting from McMurdo Station
Over the past week we have continued to make preparations for our field work at Lake Bonney. Maciej, Jim, and Loralee flew out to our camp on East Lake Bonney several days ago. They have been preparing camp for the rest of the team and have been melting an 8 foot diameter hole in the ice that will allow us to deploy Endurance in the lake.
Back in McMurdo, Chris, Vickie, and Emma have been joined by other members of the Stone Aerospace team: Bill Stone, Bart Hogan, Kristof Richmond, Shilpa Gulati and Rachel Price. This influx of troops has made The Incinerator a much livelier place. We are currently working to make sure that we deal with any Endurance maintenance, software, or upgrade issues here in McMurdo before the bot is shipped out to the field. A few problems have been encountered but we are steadily working through them and are still on schedule. Thus far we have plugged in all sensors and established that they are working. Chris has been working in the cPCI (the bot's main computer), swapping out an old hard drive for a bigger one, installing an additional hard drive, and rewiring the cPCI's connection to bot's multibeam sonar unit, the Delta T, to allow us to view this sensor's high-quality sonar data on our mission control monitors in real time.
While inspecting the vehicle, Rachel noticed that one of the six thrusters was leaking vegetable oil. The thrusters are pressure-filled with this biodegradable oil to keep water from leaking in, so it is important that that pressure be maintained. Upon removing the thruster we saw that it is leaking from the cable that runs from the thruster body to the motor electronics pod. We're not sure why it suddenly began leaking but the most likely answer is that some part of the connector expands and contracts with temperature changes differently than the part it mates to. Since the bot had a nice cold, exposed ride on a trailer down to the warm, sheltered Incinerator, it recently went through some drastic heat changes, which may have caused the leak. Fortunately, we have a spare thruster that we can swap in. We also ordered some replacement oil and parts from the states for the leaky thruster and these arrived today with Shilpa, the final SAS installment to Team Endurance for this year.
Another system we have been working on is the vehicle batteries. The batteries the robot used last season are the same batteries that were used for the DepthX vehicle, are 4 years old, and have seen a lot of action. They are large, custom designed batteries using lithium ion cells and they are rechargeable. However, like any rechargeable battery, they degrade over time and eventually they will become unusable. Anticipating this degradation, Stone Aerospace used some upgrade funding from NASA to design and build two new batteries. We built these new batteries in August and shipped them down to McMurdo soon after. Chris and Bart have been busy finishing various wiring odds and ends on these batteries and soon they should be ready to test on the vehicle. The plan is that we'll use these new, more powerful batteries for all of the Endurance missions this year and we'll have the old batteries on standby as back-ups. While the old stacks were charged a few times over the winter by a technician here in McMurdo, they were still in pretty bad shape (very low charge and in a few cases individual cells even had negative charge) when we arrived to retrieve them, thus, we are now working to carefully and slowly bring them back up to full charge, if possible.
Chris checks out the wiring on one of the bot's new batteries.
We also continue to get up to speed with living and working in Antarctica. All of the new arrivals have gone through their intro briefings. Since Rachel and Emma weren't here on the Ice with us last year, they had to go through Happy Camper School, where newbies learn cold weather survival skills for 2 days and spend the night camped out in the snow. In the meantime, Vickie and Bill, accompanied by McMurdo's dive coordination officers, each did a dive under the sea ice in McMurdo Sound. The extremely cold water (about -1.9°C or 28.6°F) means that divers here typically use drysuits, full face masks and surface-supplied air. These check-out dives, in addition to extensive training completed in the states, qualify Vickie and Bill to serve as divers for the Endurance project. As such they will be able smooth any sharp corners around the bottom edge of the ice hole to prevent damage to the bot and to swim a short distance to the bot and attach a tow rope in the event of a minor mishap.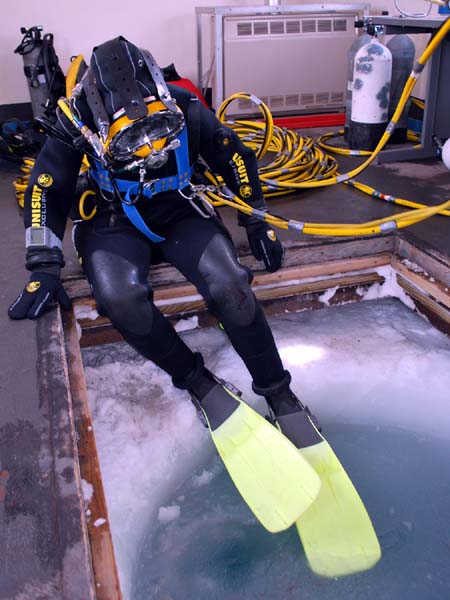 Vickie Siegel enters the icy seawater.
Reporting by Vickie Siegel