Antarctica
Reporting from McMurdo Station
The last few days have been busy. The first wave of Team Endurance has been dealing with the practical aspects of living and working on the Ice. Nearly every facility we use around McMurdo station and in the field requires an orientation briefing. In addition to these, we've attended refresher courses in cold weather survival, ATV and generator operation, communication equipment and protocols, and so on. In between briefings, we've been getting our in-town lab space set up for the robot.
To avoid costly shipping charges, at the end of our field season last year we stored the bot in McMurdo, instead of sending it back to the states. So here, a giant grey orb amidst a yellow sea of snowmobiles, Endurance has waited all winter in the station's Mechanical Equipment Center building. Now we have moved the bot to a building that is called—for reasons unknown to any of us—The Incinerator. The Incinerator is to be our lab/work space for the next week as we prepare the bot and our new batteries for the field. We've moved the bot into the building and a crew of janitorial staff came out to give the space something of a deep cleaning, since the last thing we want is to get grit into any of the electronics or into the water-tight seals on the vehicle.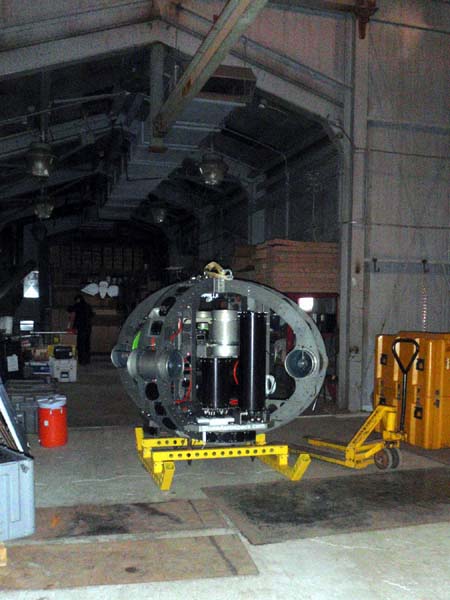 The bot now resides in The Incinerator building. We like to think that the robot adds some class to the joint.
Since the bot has been sitting completely inactive since early January, Chris's first task was to see if the main computer would boot. There was no reason that it shouldn't—still, conventional wisdom says that if you leave your car parked in one place for 10 months without driving it, there are a number of reasons it may well not start when you come back. Fortunately, Chris was able to boot the robot up yesterday. Now we will connect all of the sensors that aren't currently mounted on the vehicle to check that they, too, are functionally correctly.
Chris is able to communicate with the bot!
Reporting by Vickie Siegel