Matanuska Glacier
June 15th – 16th, 2015
On Ice
Passing by Mt. Rainier and Mt. Adams near Seattle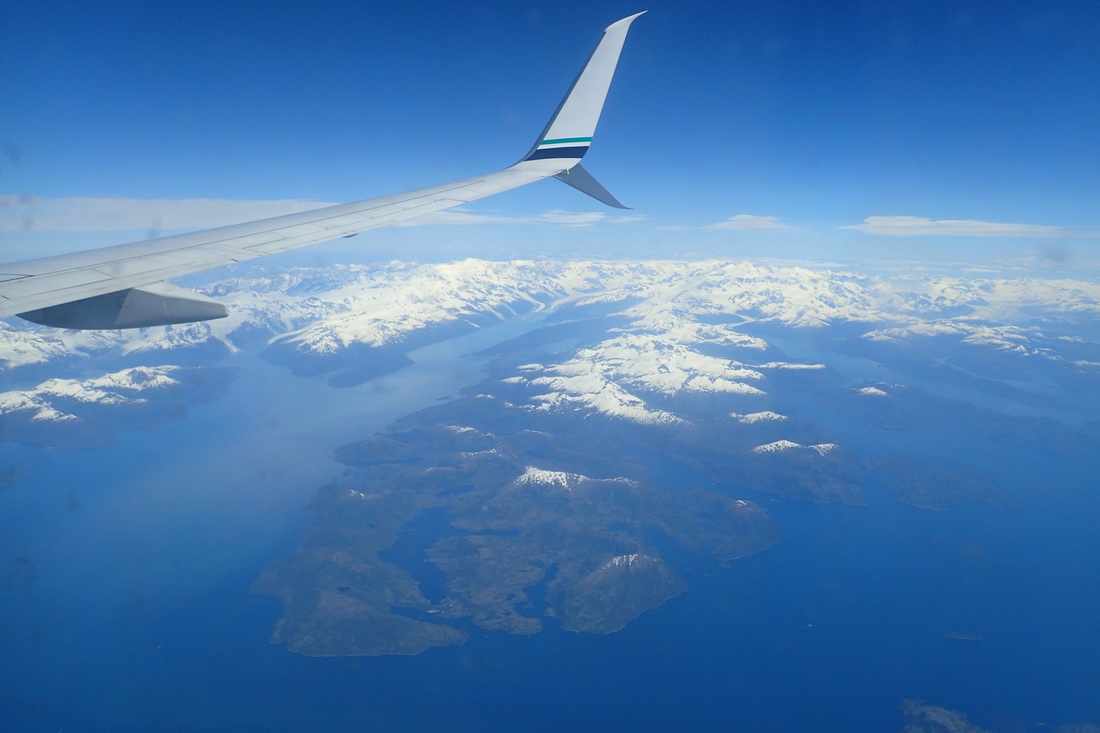 Oceans, mountains, islands, and glaciers frolic together in Prince William Sound
Today was the big day. I left for the San Jose airport at about 6am, with a flight to Seattle, then Anchorage. Vickie was kind enough to book me with window seats on both flights, so I was treated to a view the whole way (tip: if you're ever flying Anchorage-Seattle, you will skirt the continental edge – try to get a window seat pointing towards land – it's stunning, vast and free wilderness stretches far as the eye can see).
I landed in Anchorage around 1pm local, and was slated to meet another Stone Aerospace engineer, John, flying in from West Virginia at 2pm. His takeoff got delayed on the tarmac, so I grabbed my gear from baggage claim and settled in at a restaurant outside security to wait for him, thinking about the places I was going to and the places I had come from. John arrived, got his baggage, and Bill and Vickie swung by in a rented car to pick us up, having come off the glacier to visit the Anchorage supply locker, take care of some errands in town, and drive us up to the tongue of the glacier. We were actually supposed to meet a cadre of 3 other people (another Stone Aerospace engineer and two scientists from UC Boulder working on an ice-penetrating radar), but they were delayed a day due to a blown fuse on the radar.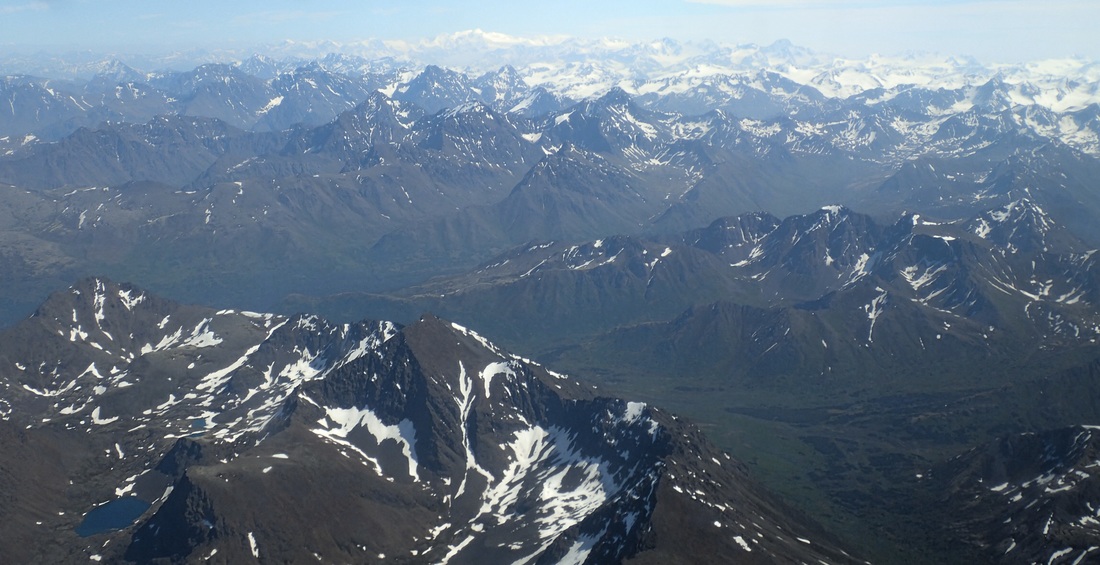 Mountains on mountains on mountains near Anchorage
We dropped Vickie off at a Motel 8 in town to take care of some Anchorage errands, and then headed Northeast on Highway 1 with Bill. In Palmer (last chance, get whatever you need now!), we stopped at Fred Meyer and stocked up on some last minute forgotten supplies (for me, a sleep eye cover – it never gets dark this far North and near the solstice!, a sun hat, a field notebook, and some bandannas). Next stop, the tongue of the Matanuska!
We continued along winding mountain roads for another hour and a half, with Bill and John talking about caving, and me watching the scenery go by. Growing up in Salt Lake City, a mountain kid at heart, I always forget how much I miss real mountains, and how full my soul feels when I am near them again. And here they are impressive – jutting up out of the landscape, steep and rugged, seemingly a dime a dozen, such that a peak that would be by far the most majestic landmark if placed near my California coastline home might not even merit a name here.
So we traveled onward, with each glimpse of white my heart increasing tempo, wondering – could this be the one? Until finally, the sign I was looking for: "Glacier View Point".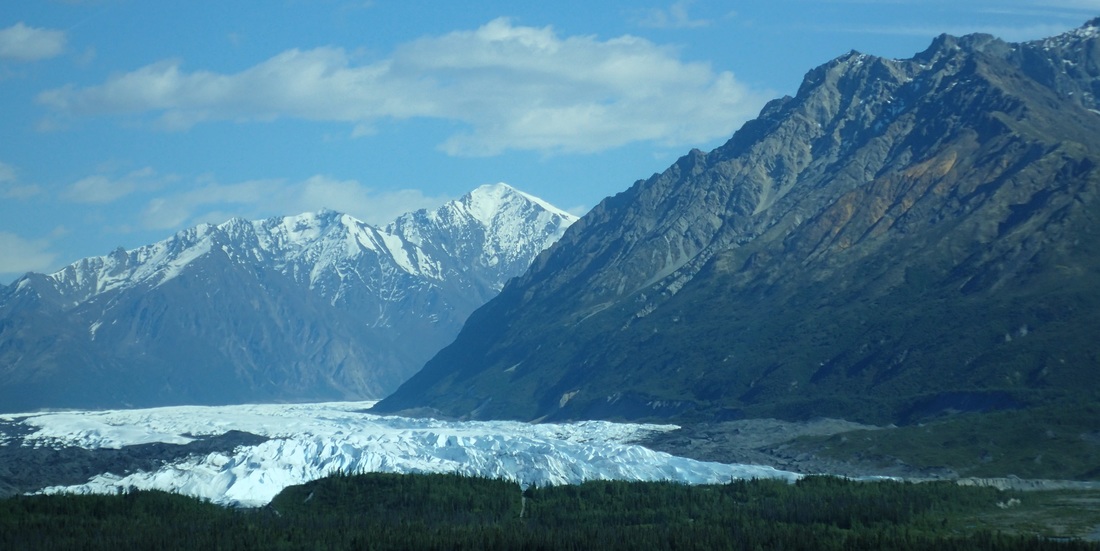 First glimpse of the Matanuksa from Highway 1
Then there it was, its scale not conveyed by any of the pictures I had researched, a huge, fractured river of ice bursting out of the belly of the mountains, as if even their massive walls could not contain it. 4 miles wide, 27 miles long, pulverizing all the land that lay in its path, such that even the rivers we had passed ran slate gray with fine silt.
We turned off the highway down a wide dirt road, and soon came to a river crossing. "Well, I have to be upfront here", Bill half-joked, "As a structural engineer, I have absolutely no confidence in this bridge". "Well, it was great to know you guys", I returned, but we rolled across with nary more than a few groans of protest from the aging wood. Finally, we arrived at our destination, Glacier Park, where we would be flown by bush plane to our camp on the glacier.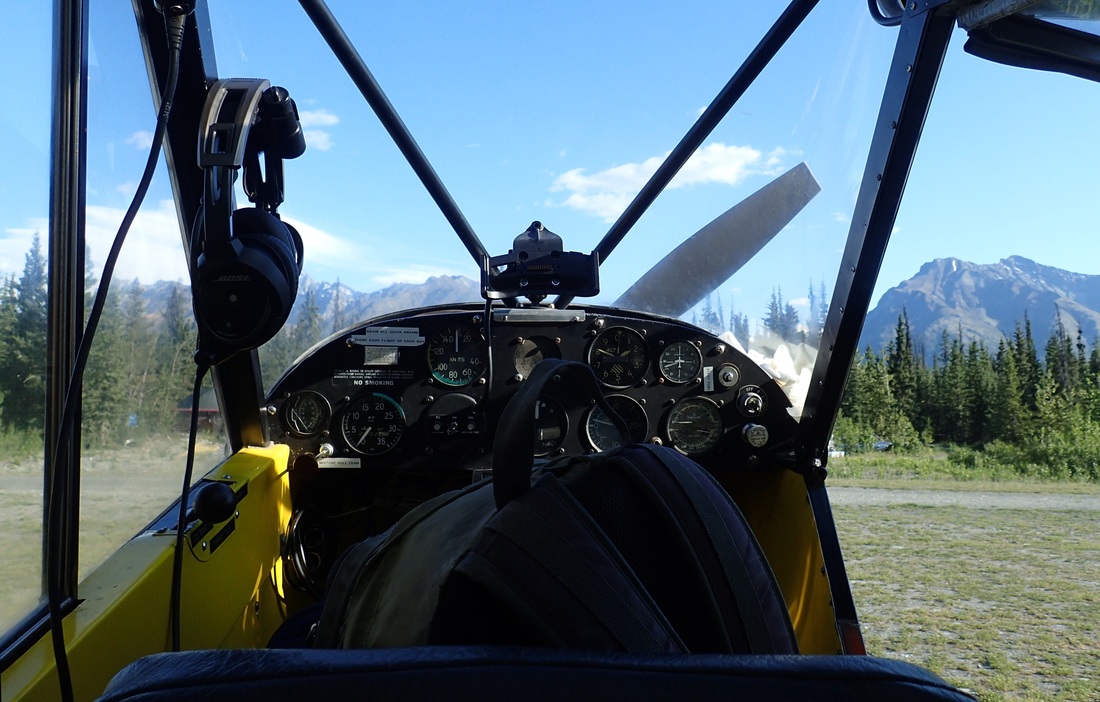 Getting ready to fly in a bush plane to base-camp
Swooping low over the glacier
Bush planes are funny things. Incredibly light, and with balloon tires so big they look like they belong in a cartoon, they can take off or land in incredibly tight spaces – back-country runways only 100 feet long, cleared of major vegetation by chainsaw. Only one of us (plus the pilot and our gear), could travel at once, so I hopped in behind Bill Stevenson, the pilot, and with earmuffs protecting my hearing from the loud drone of the propeller, soon we were aloft. We flew low towards the glacier, the land below changed suddenly from brush green, to moraine gray, to glacier blue and white. I felt like I could brush the tops of the ridges with my fingertips; they swooped towards us and then dropped away again in a mesmerizing pattern of refrozen fractures and sinuously carved water channels. About 6 miles up glacier, we circled wide a few times over camp, with magnificent valley views each time, then came in for landing at an old hunter's airstrip the VALKYRIE project had reclaimed from the underbrush. With a bump, a bounce, and another bump, we touched down on Earth again.
John followed close behind in another bush plane, and Josh, our camp manager, came out to greet us and assist with our luggage. He gave us the run-down of camp, laid out the ground rules, and handed us our tents, sleeping bags, and bear mace. Base camp is divided into two areas, a kitchen/social area with a fire pit, dining area, and a huge dome tent for hanging out / hiding from mosquitoes, and a sleeping area containing each individual's tent. Each area is encircled with a portable electric fence to keep bears out. The bathroom is a shallow trench about 100m into the underbrush, shielded by a small rise for privacy. Mission Control camp on the glacier is about a 15 minute hike away, down the glacial embankment, across the moraine, and finally across the ice. Vickie, Josh, Kyle, and David have been here for about a week setting up – establishing base camp, guiding heavy cargo helicopter flights onto the glacier (laser, generator, chiller, mission control structures), unpacking the gear, building our command shelters, and much more. The logistics are at least as hard as engineering the robot – these guys are heroes.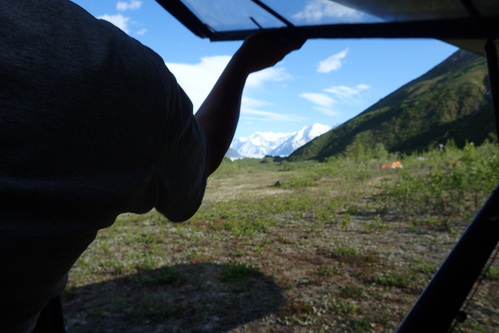 Your new home awaits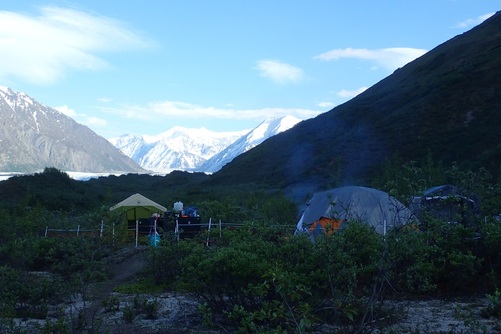 Base-camp is on solid ground to the side of a glacier in an area of sparse underbrush. Food is kept in bear boxes, organics are burned, and the camp is encircled by a portable electric fence to keep bears out.
I got settled in, ate a hearty dinner Josh cooked us, chatted and played the camp guitar for a little while, then went for bed. Time-wise, I felt totally disoriented – it was weird retiring in broad daylight, but my watch said 11pm. I didn't feel tired, but as soon as my head hit the pillow, I was out like a rock.
The next morning, itching to see the glacier for real, I ate breakfast and headed out for a short hike, equipped with water, camera, radio, bear mace, and my loudest singing voice (as to not surprise any furry friends). For awhile, I was worried the travel would be mostly bushwhacking, but before long I located an old hunter's path which allowed me to move relatively unimpeded. I made my way to a ridge with a clear view up and down valley, took some photographs, and drank in the untamed wilderness. To watch and listen to the glacier is a study in perspective – here I was, a small speck on the side of something that had witnessed a time before humanity, something so vast and powerful than it would not even notice if it rolled over me, or sucked me into its depths. And yet, before me, it was melting, the sound of rushing water and rocks tumbling endlessly into the depths of a moulin, the scooped valley walls above me marking how much the ice had retreated, the terrifying realization laid bare to see: how the combined small effects of me and many other specks are withering this awe-inducing creature towards nothing. How the glacier is dying.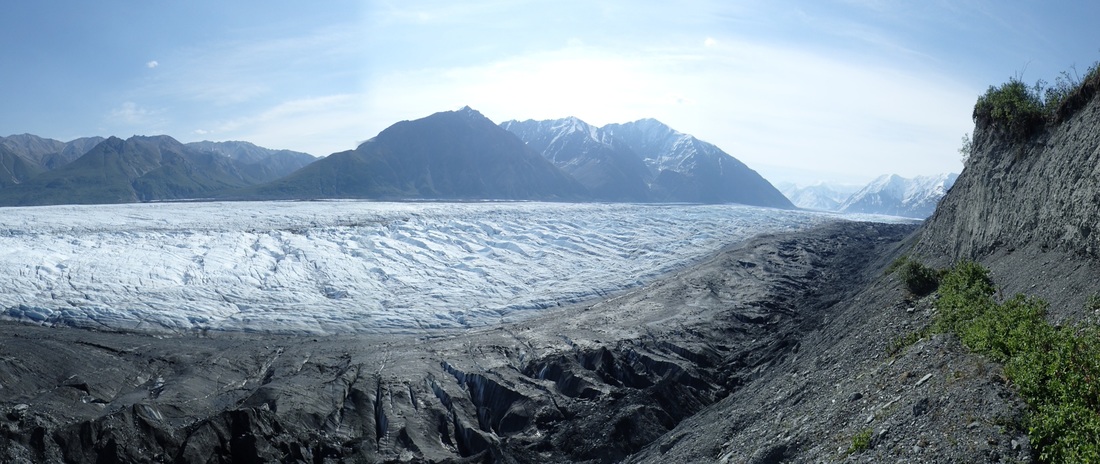 The Matanuska glacier rumbles down-valley
I returned to camp, and mustered my gear to head out to the glacier and begin the work day. Kyle guided me to Mission Control – a well-trodden trail down a hill, across the moraine (glacier ice covered in upturned sediment, rocks, and boulders), and finally onto the ice itself, imparting glacier travel safety tips along the way.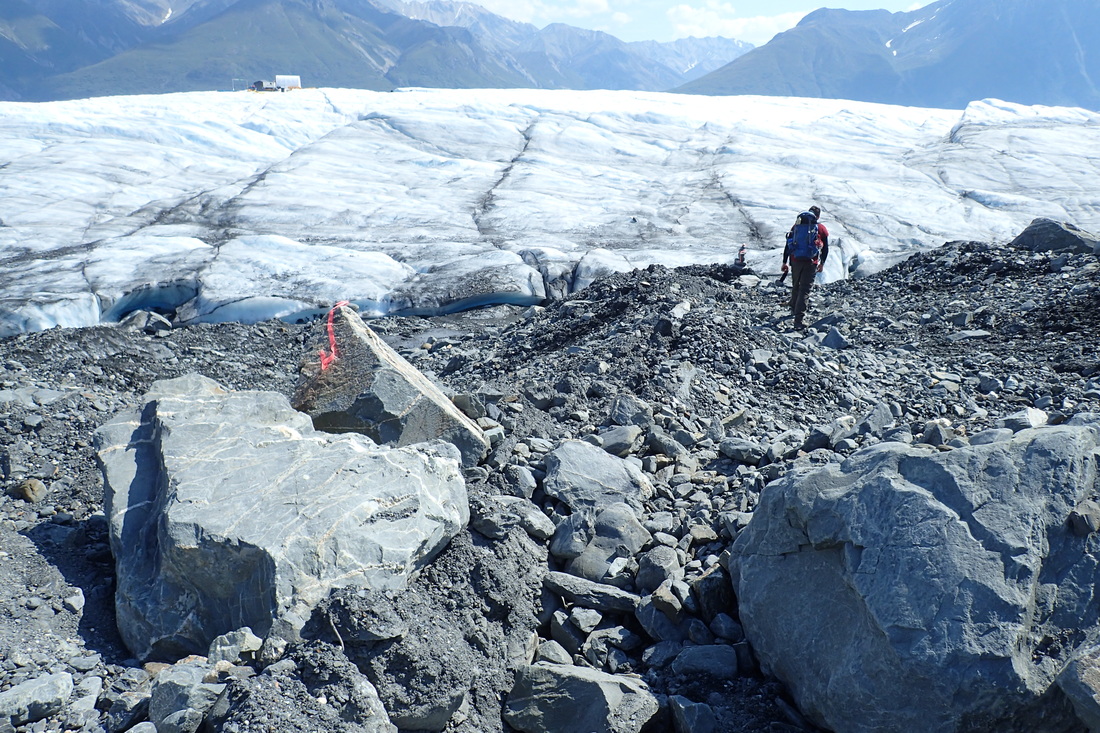 Kyle leads the way across the moraine towards Mission Control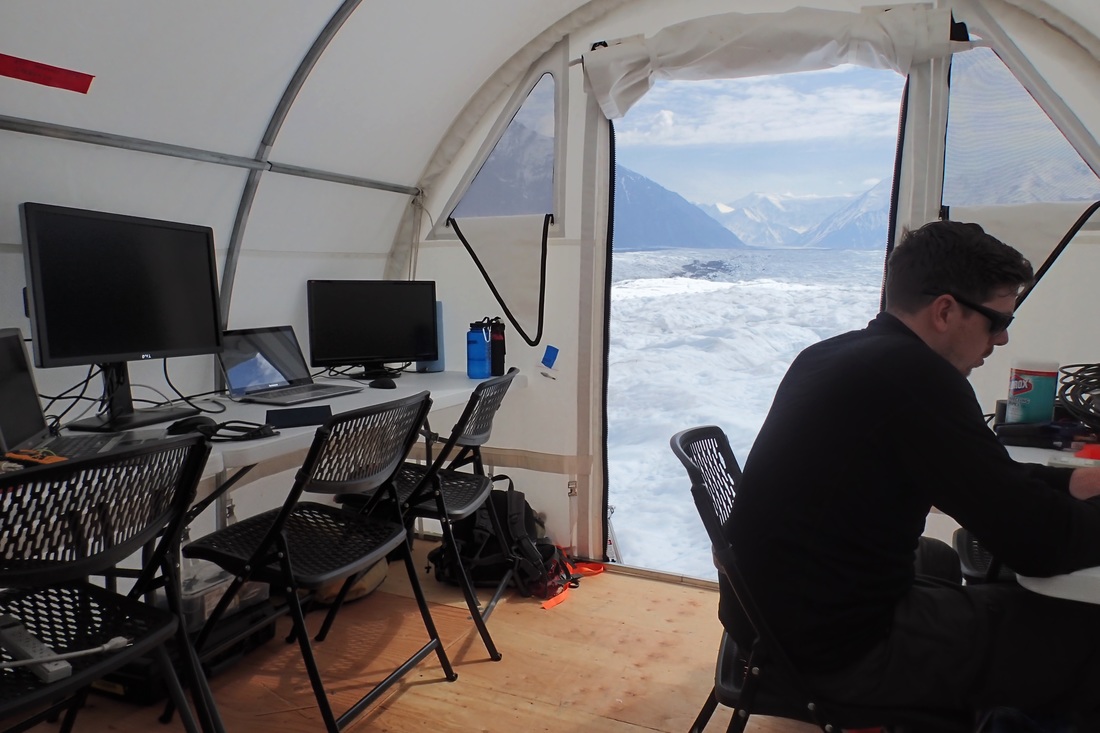 The view from Mission Control is not terrible

The main Mission Control tent, housing the laser, the control computers, and keeping the engineers warm and happy for some potentially long deployments.
Finally we arrived at mission control – for now a few large tents, generators, cargo crates, and various infrastructure needed to run the robot. More tents will pop-up in the coming weeks as the main body of the science crews arrive with various requirements for their experiments. We even have limited cellular and internet service on the ice from a radio tower visible as a white speck on a peak at the foot of the valley. I spent the rest of the day working with John to set up the interior of the mission control tent – unpacking crates, inventory-ing gear, setting up computers, organizing. I was even able to duck out a few times to wander around a bit, marvel at the glacier, and snap a few photos in artistic mode instead of documentary mode. Here's the best one I got: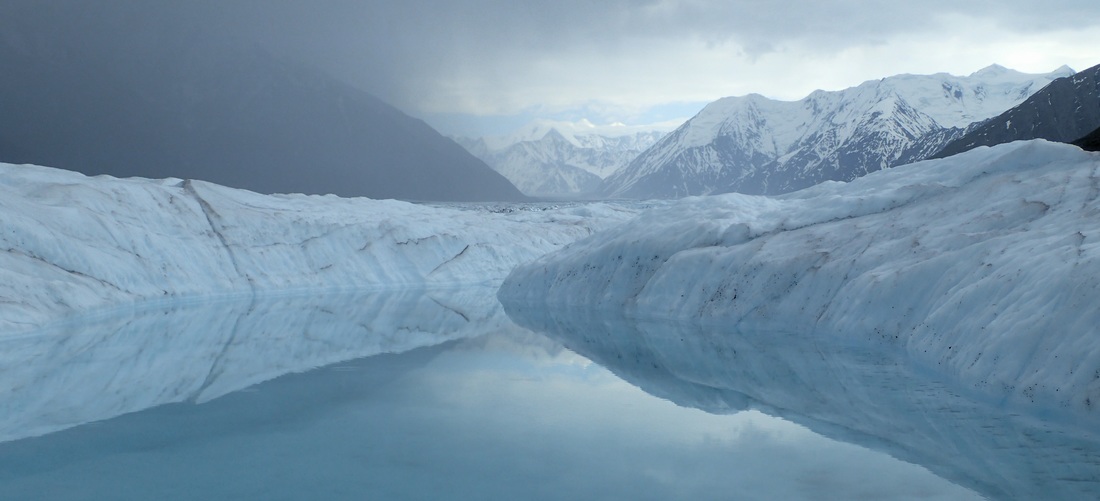 Mountains, clouds, and ice are mirrored in a pristine glacial pool
A group of scientists and other engineers fly in tomorrow, and camp will get more lively. We'll spend the next few days getting set up. I can't wait to get started on the science.
Reporting by Evan Clark