Packed & Ready
Clothing I'm Bringing
Back in the day (until last year), the U.S. Antarctic Program issued participants everything they needed to survive and work in the Antarctic. That is no longer true. Fortunately, I still have a bunch of high-quality gear from the Australian Antarctic Division. Here's what I'm packing:
Warm Socks (4)
Really Warm Socks (8)
Nuclear Option Socks (4)
Lightweight Synth. Thermals (1)
Midweight Synth. Thermals (1)
Heavyweight Wool Thermals (2)
Windproof Fleece Vest
Work Pants
Balaclavas (2)
Hats (2)
Neck Gaiter
Glove Liners (2)
Wrist Warmers (for typing)
Goggles
Extra Sunglasses & Glasses
NZ Plug Adapter
Towel, Toiletries, and Contacts
Shirts, Undies, Sweaters, etc.
Hiking Boots
Extra Duffel
Clothing I'll Be Issued
USAP participants ARE still issued the really serious stuff. Here's what I think I'll be issued in Christchurch:
Nuclear Option Giant Red Parka
Quilted, Bibbed Work Overalls
Various (?) Gloves
"Bunny" Boots
Goggles, gaiters, facemask, etc…
I'm sure it's going to be hectic in Christchurch, but I'll try to do a gear post sometime after it's been issued.
Camera Gear
This is obviously a play-to-win situation, but mass and volume are limited. Here's what I'm bringing:
70-200 mm f/1.8
100-400 mm f/4.5-5.6
17-40 mm f/4
Polarizer & ND Filter
Camcorder
GoPro & Mounting Trinkets
Tripod (!) & Ballhead
Cleaning Equipment
Camera Gloves
External Flash & Batteries
Headlamp
1 TB HDD
Packed!
All this fits into one checked bag, one carry-on (all camera gear), and one backpack (also w/ my project laptop).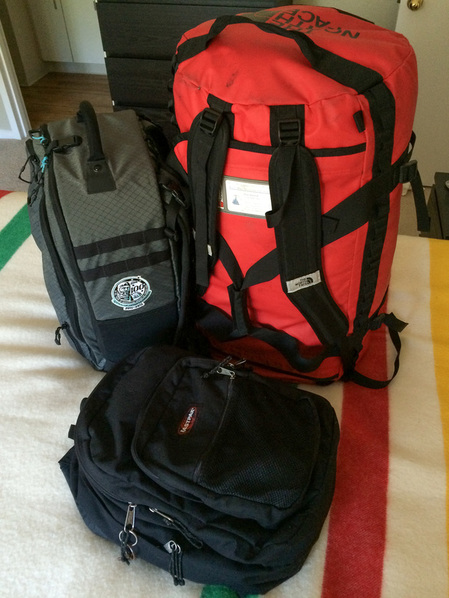 Reporting by Peter Kimball