Ups and Downs
Well, a crazy work schedule and poor internet connection have made this post rather late. It has been an eventful past few days. Our operations have been smoothing themselves out, and by last Monday, we finally had successfully performed the tests we'd set to say the ARTEMIS was ready to venture out beyond a 1 km radius of the borehole. The under-ice environment was scouted, we had worked out the kinks in our launch and recovery operations through the sea ice, figured out how to run long missions and get the desired science and engineering data, and worked through several bugs and issues with sensors and systems in the under-ice environment in the McMurdo Sound.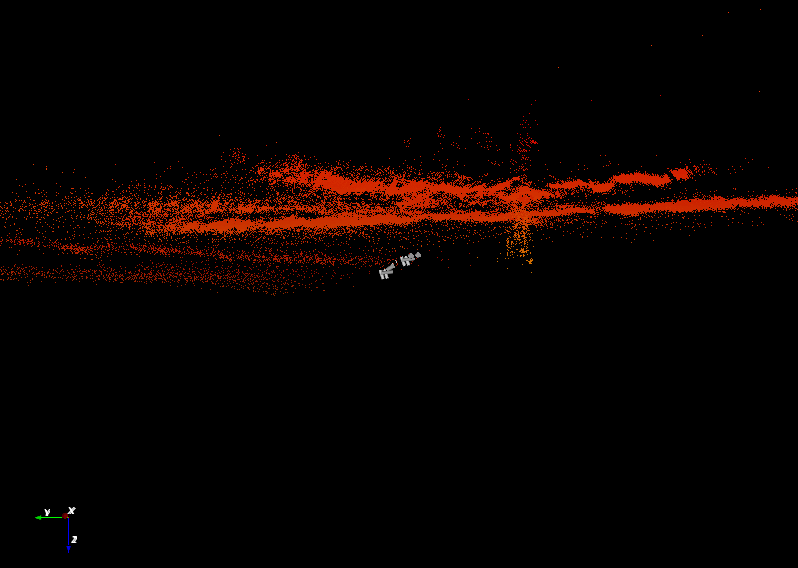 ARTEMIS dives away from the borehole to begin a mission in this view from our real-time sonar data visualizer. A skeleton depiction of ARTEMIS is in grey in the center, mapped portions of the ice ceiling show up in red, the docking bar assembly can be seen in orange towards the right with a part of the borehole culvert extending up above it. (image: Kristof Richmond)
So we decided to make a long run under the sea ice as a rehearsal for under-shelf runs. This way, if anything went wrong, we'd have a chance of getting through the ice to pull ARTEMIS out. And we'd be able to gather some unique data on the sea ice environment to boot.
We were fortunate to have Michelle from the PolarTReC program to join us and help document the day (she even helped us out with robot operations and cooked a mean pesto pasta—thanks Michelle!). Check out her blog to learn more about PolarTReC and Michelle's journalling on the impacts humans are having on Antarctica.
Launch and mission initialization went quite well. We began the long transect under the sea ice north of the bot house. Everything going quite smoothly, but we detected that ARTEMIS was not controlling its trajectory as well as it had been on previous missions–likely due to the removal of some ballast weight to ensure it would float up against the ice ceiling in case something went wrong and some last minute tweaking on the vehicle hull to try to reduce drag. I attempted to send some commands to adjust parameters in the vehicle control system, and inadvertently triggered a previously-undiscovered bug that ultimately resulted in voltage spikes on the power system, bringing down the main vehicle processors. We were able to receive data from vehicle subsystems (cameras and the like), but could not get the main processor to respond, leaving ARTEMIS without a way to gather navigation information or actuate the thrusters.
However, we had a back-up plan in place for precisely such an occasion: we were intentionally under the thinner sea ice (still 4 m thick), and had Mel and the reed drill, as well as the McMurdo divers Rob and Steve on standby. Brian was out tracking the vehicle and was able to quickly localize the magnetic beacon when it came on in emergency mode, and we hand-drilled a small hole to put a camera down and found ARTEMIS only a few meters away. Mel was soon on the scene and drilled out an access hole, and soon after Rob went in with a safety line and hooked ARTEMIS.
In a surprisingly short amount of time (only a few hours), ARTEMIS went from being stranded under the ice to back warm and safe in the bot house. The bug that triggered the power fault was fixed, and several other improvements to the system identified. We will need one more run on our safety line to validate these fixes, but then are aiming for the ice shelf, which is too thick for anyone to drill through and rescue the vehicle. But that is what we came here for: to explore the unknown.