Aerial View Of SIMPLE Camp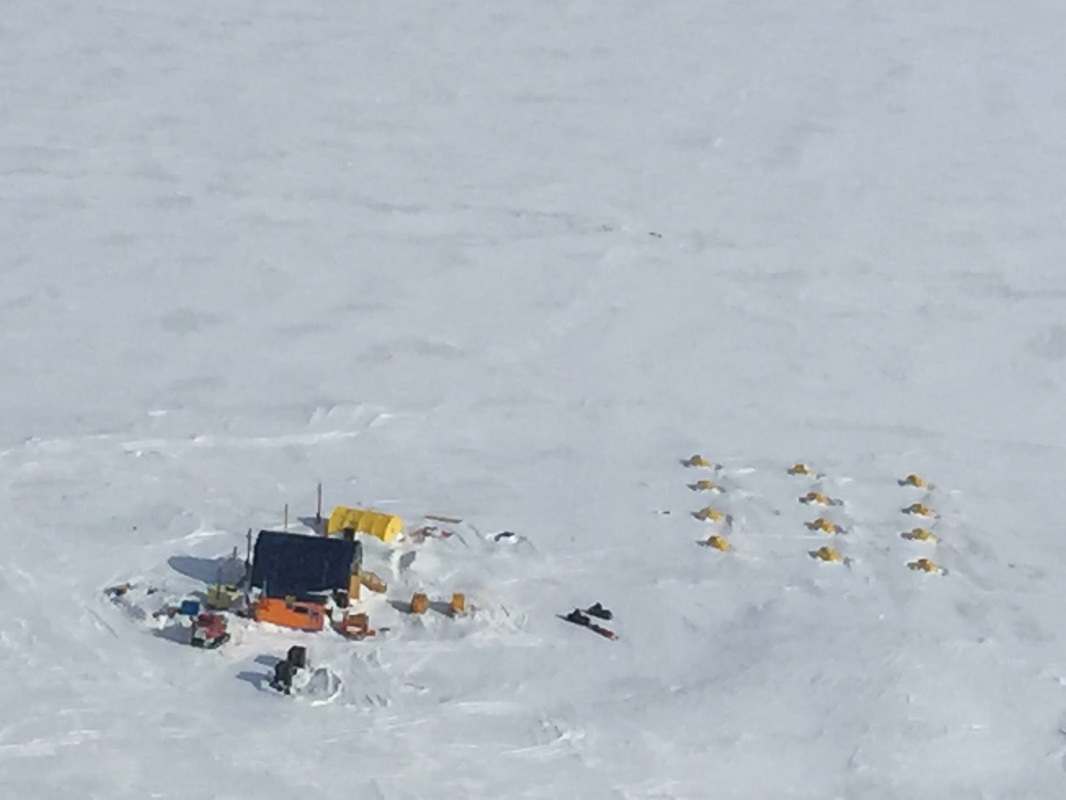 SIMPLE camp as seen from a USAP helicopter. (photo: Peter Doran)
I was delighted to receive an aerial photograph of SIMPLE camp recently from Peter Doran. In addition to his work on the SIMPLE project, Peter does research in the dry valleys to the Northwest of McMurdo. He was able to spot SIMPLE camp and take this photo from a USAP helicopter while returning from the dry valleys.
The photo shows the big blue bot house, the yellow galley tent, the grid of sleeping tents, two black outhouses, the orange fish hut, and various equipment crates. A Pisten Bully can be seen on parked next to the main generator on the left, while two snow machines are parked at center. The ice shelf transition is barely visible, running close to horizontal through the top half of the frame. Faint vehicle tracks cross from camp up onto the ice shelf through a flagged "stargate", visible as a few dark spots.
Here are photos of the ice shelf stargate and tent rows that I took a few weeks ago.
A flagged "stargate" marks a safe spot for us to cross the transition from sea ice to the ice shelf. Our tracking teams use the stargate every time ARTEMIS goes beneath the ice shelf. (photo: Peter Kimball)
The SIMPLE camp tents sit in a neat grid. (photo: Peter Kimball)
Reporting by Peter Kimball