Ready, Set, …
We have spent the last few days preparing to put ARTEMIS in the water. Technically, we've spent the last three years doing that, but things are really coming to a head now. We've removed the flotation and coverings, and checked the fasteners, housings, connectors, and moving parts. The McMurdo community has scrounged up a few replacement parts for us where needed. Brian has been setting up his radio frequency tracking gear, and those of us on the software team have been setting up mission control and checking the data coming from the ARTEMIS sensors.
In the struggles department, many of us have been fighting nasty colds this week. We're also having to work a bit to get everyone out to the site when they need to be there, and to keep from stepping on each other as we all work on various aspects of the robot. We've been lucky enough to borrow some vehicles, some folks have pulled some very late nights to spread the schedule out, and Bill and John even slept at the camp on Wednesday night. Soon, we'll have sleeping tents set up out there, giving us some more flexibility in scheduling and transportation.
On the whole, forward momentum is good right now, and the first in-water tests of ARTEMIS feel very close.
The stars aligned a few days ago such that all nine currently-in-the-field Stone Aerospace ARTEMIS team members were in the bot house with ARTEMIS at the same time. I seized the moment to capture a group photo.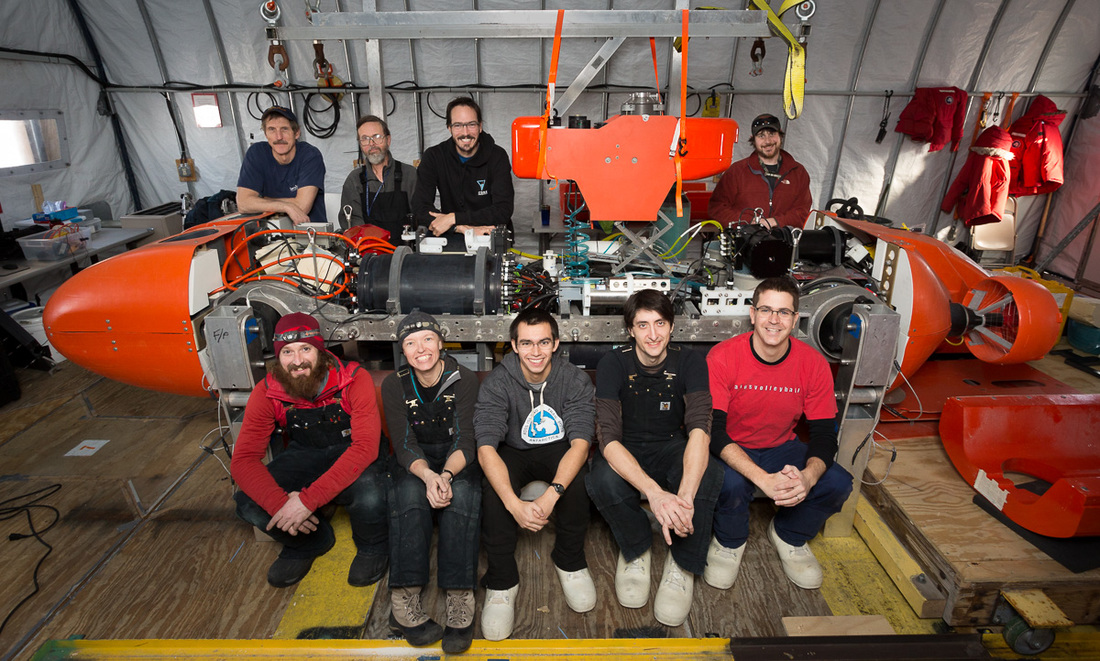 Bill, Brian, Kristof, John, Josh, Vickie, Evan, Chris, and I pose with ARTEMIS in the bot house. (photo: Peter Kimball)
However, the group changes today. A C-17, currently in the air, will deliver Mark and Keith to us, but will then take John back to the real world.
The weather has been cold, but nice and calm the last few days. Mt. Erebus was looking excellent yesterday, sunlit even as low clouds shaded the sea ice near camp: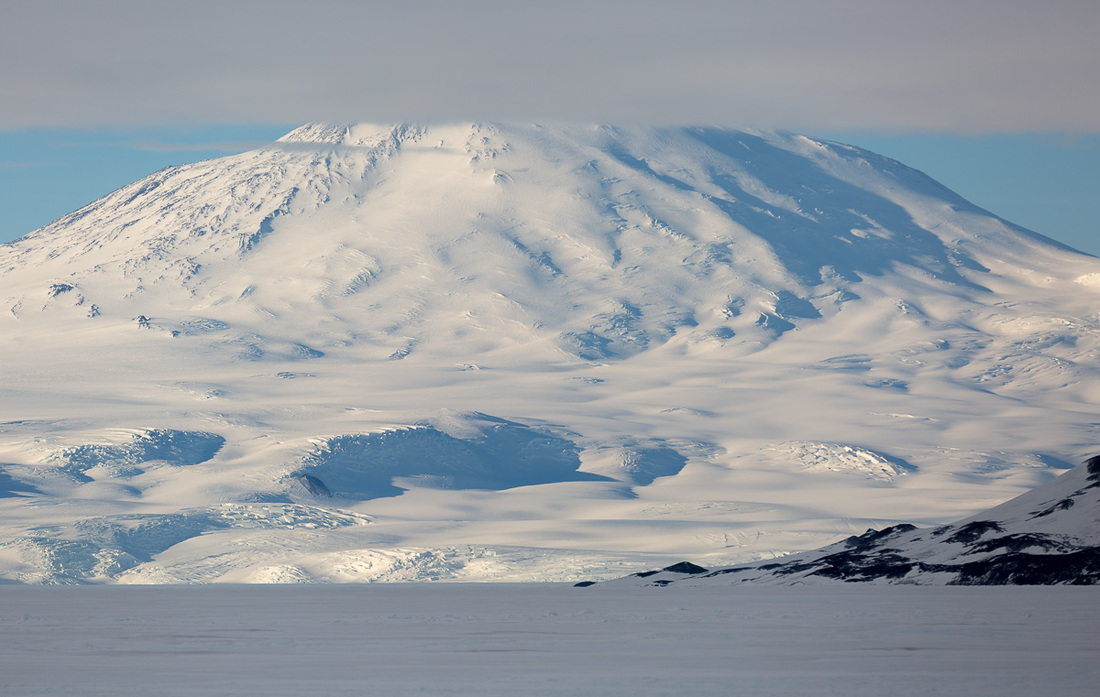 Mt. Erebus is sunlit beyond the cloud cover. (photo: Peter Kimball)
Reporting by Peter Kimball