Meanwhile, in Austin…
Back at Stone Aerospace headquarters, the remaining members of the ARTEMIS team have been hard at work adding finishing touches and performing final testing with ARTEMIS in preparation for shipping her to Antarctica. We've been verifying newly added instrumentation, tuning control, and improving ARTEMIS's autonomous navigational capabilities. For quick tests, we submerge ARTEMIS in Stone Aerospace's NBF (Neutral Buoyancy Facility – basically a big tank of salt water), and for more in-depth tests, we bring her to Mansfield Dam, which provides us locally with two things we need: enough water depth to maneuver, and a large boat ramp we can use to move ARTEMIS from the trailer to the water.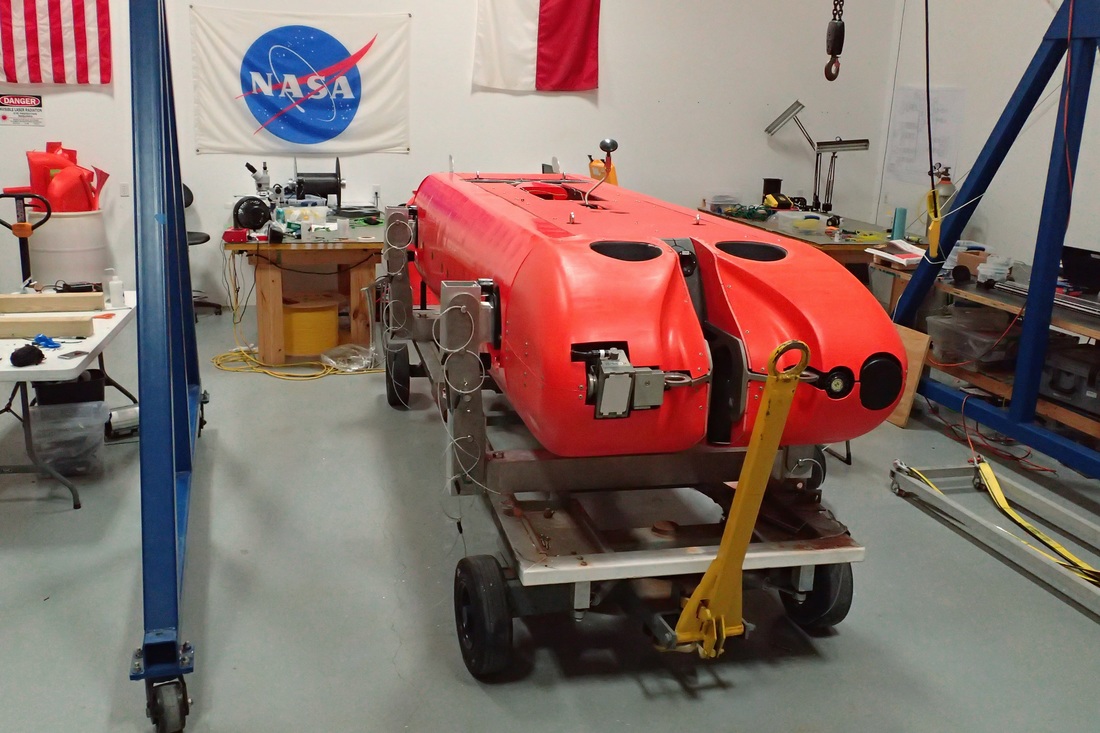 ARTEMIS sits on her transportation cart in lab at Stone Aerospace headquarters. (photo: Evan Clark)
ARTEMIS shipped yesterday (woohoo!) and began her long journey to the ice. ARTEMIS will travel by ground to Port Hueneme, California, and from there she'll catch a ride on an Air Force cargo plane to Antarctica, along with scientific equipment from other US Antarctic Program projects. Assuming the weather cooperates, ARTEMIS will arrive at McMurdo near the start of October – about the same time as the first wave of the MainBody team (Kristof, Evan, and Brian). The second wave (Mark, Keith), will join us near the end of October and relieve some members of the WinFly team.
ARTEMIS undergoes testing at the Stone Aerospace Neutral Buoyancy Facility in early August. (photo: Evan Clark)
Kristof maneuvers ARTEMIS out of the trailer and into the water in preparation for lake testing. Once ARTEMIS's weight is held up by buoyant force, the arms on the transportation cart are swiveled away, and she can float free. (photo: Evan Clark)
The WinFly team has been working tirelessly to select a field site for ARTEMIS from several candidate sites on the sea ice near McMurdo Station, and make sure all the logistics are in place to receive the robot once she arrives. They have been scouting the field sites using the Sunfish AUV, as well as a small ROV donated by OpenROV for the expedition (thanks OpenROV!). They hope to gather data on local currents, formation of platelet ice and brash ice (nasty refreezing effects near the ice ceiling which could create features for ARTEMIS's fiber optic tether to snag on), and ease of access to our scientific targets under the McMurdo Ice Shelf. Once a field site is selected, they will construct the Bot House (a heated mission control structure with a moon pool through which to deploy ARTEMIS), set up our camp on the ice, and prepare for ARTEMIS's imminent arrival.
She's on her way, cross your fingers for safe travel!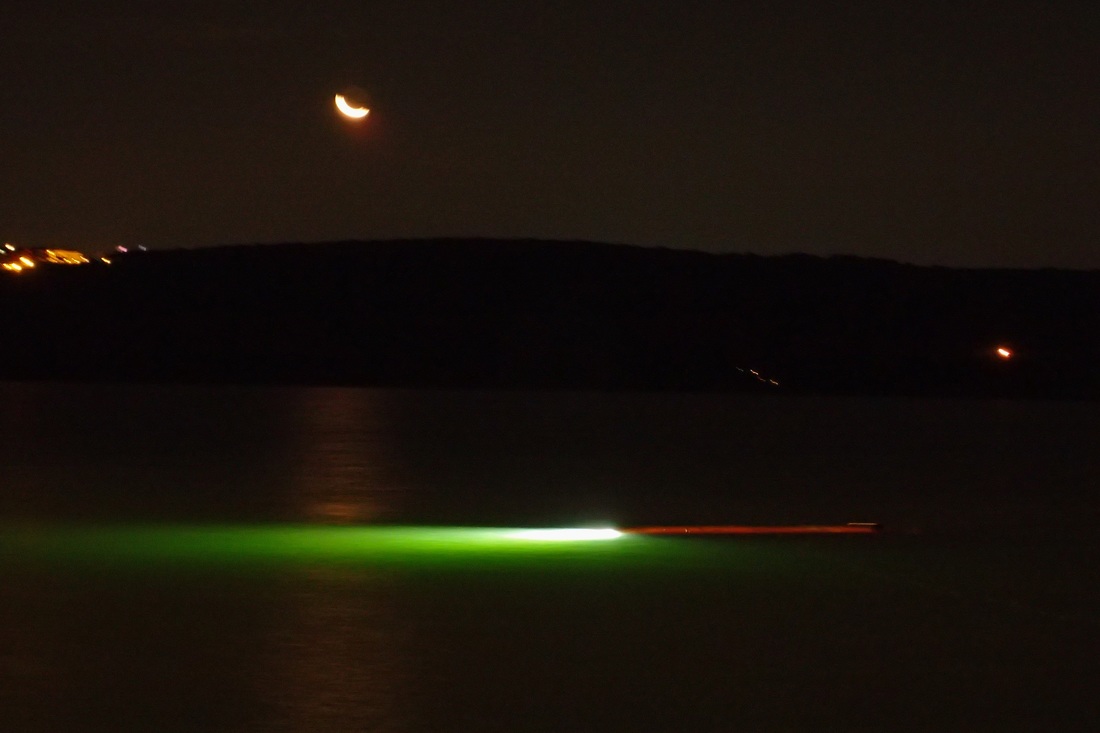 ARTEMIS performs a transect during lake testing at Mansfield Dam over Labor Day weekend. We found it easier to perform testing at night to avoid all the holiday boat traffic! (photo: Evan Clark)
Reporting by Evan Clark