First Sunfish Dive at our Candidate Field Site
We returned to our site on Wednesday night after our access hole was drilled that morning. One group worked for two hours to clear platelet ice from the access hole while another group loaded Sunfish and its support gear into a vehicle and brought it out to the site. The fish hut was cozy with a heater running and seven of us inside.
After doing some checkouts on the vehicle systems, we deployed it down through the drill hole. It was the middle of the night (we still have darkness for the time being), so we didn't see the glowing blue ice ceiling. The camera view was completely black except for backscatter from the headlight, and an occasional view of the vehicle tether or the ice ceiling when we got very close. There's still quite a bit to learn about the conditions at the field site, but we did use the opportunity to test a number of vehicle sensor systems, particularly those relating to the swift moving water currents present at the site. Once again, we left the test happy, but with a list of tests and improvements to work on for the next dive.
I set up a GoPro camera on Sunfish for this dive and came home with hundreds of images of headlight backscatter in dark dark water.
Fog forms in the Sunfish drill hole as cold air from below mixes with warm air in the hut. (photo: Sunfish/Peter Kimball)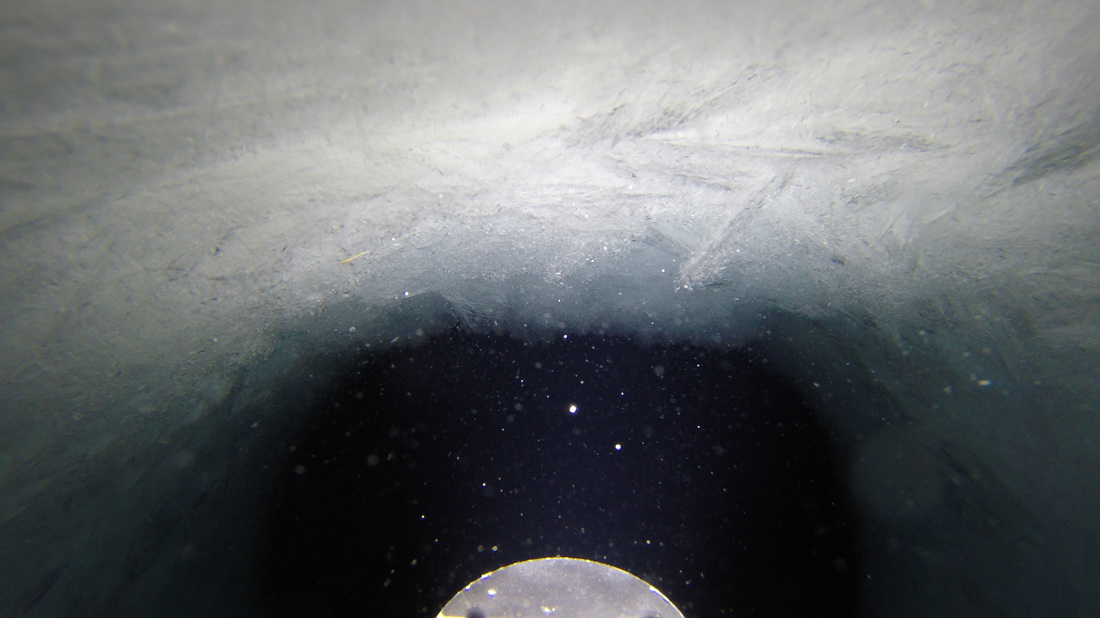 Sunfish points down the drill hole. The headlight illuminates platelet ice on the walls of the hole. (photo: Sunfish/Peter Kimball)
The Sunfish headlight illuminates platelet ice accumulation near the drill hole. (photo: Sunfish/Peter Kimball)
Reporting by Peter Kimball