Sunfish Under Ice!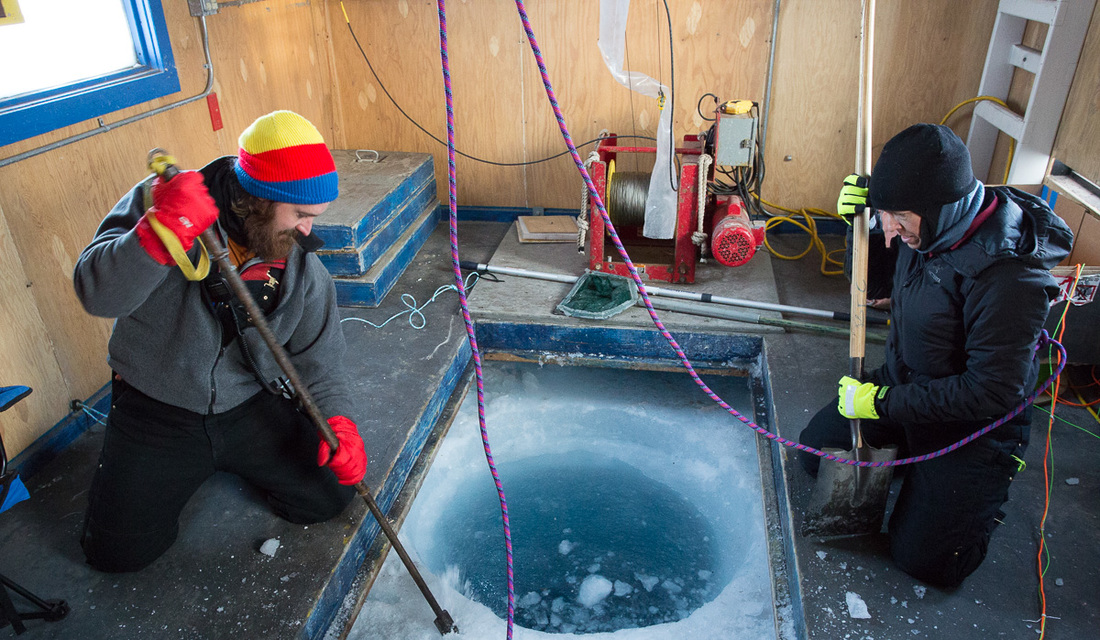 Josh and Vickie clear ice from the drill hole in preparation to launch Sunfish. (photo: Peter Kimball)
Today was a great day. Sunfish completed her first ever dives under ice. We drove out on the sea ice in our Pisten Bullies to a fish hut loaned to us for the day by another science group. After setting up our computers and safety rigging, we went through our startup checklist and deployed Sunfish into the hole. The first test was to pull Sunfish right back out again. Once we were certain about our ability to recover Sunfish, we sent her back down the drill hole and drove her out under the ice…
The ice is about 2 m thick at this location, so I was surprised to see how much sunlight makes it through to the water. The drifting snow, our hut, and our vehicles all make shadow patterns on the ceiling overhead. In the water, we performed several tests of specific subsystems, and generated a list of things we'd like to improve or implement for our next test. Here are some screen-grabs from Sunfish's live camera view during today's glorious first ever dives under ice:
We arrived in the morning to find that the heater in the hut had broken. Normally, the heater is left on to keep the ice hole from refreezing. Without the heater working, the temperature in the hut was the same as outside: -30 F. However, some local seals had kept the hole open all night. Two seals continued to use the hole for breathing throughout our operations today. Protocol when seals show up in the hut is to stop operations and allow them to breathe. Depending on what they're up to, their breathing can last 5 – 15 minutes. If they show up with a fish and set up shop to eat, it can take much longer before they leave and allow work to resume. Our visitors today only stayed for about 5 minutes at a time. It was really special to see these seals up close in their antarctic home.
The weather was a bit nasty when we left town this morning, but by the time we finished up at the fish hut in the afternoon, things had improved quite a bit. Some carpenters from town even came out and fixed the heater in the fish hut. This was the scene just before we packed up for the day: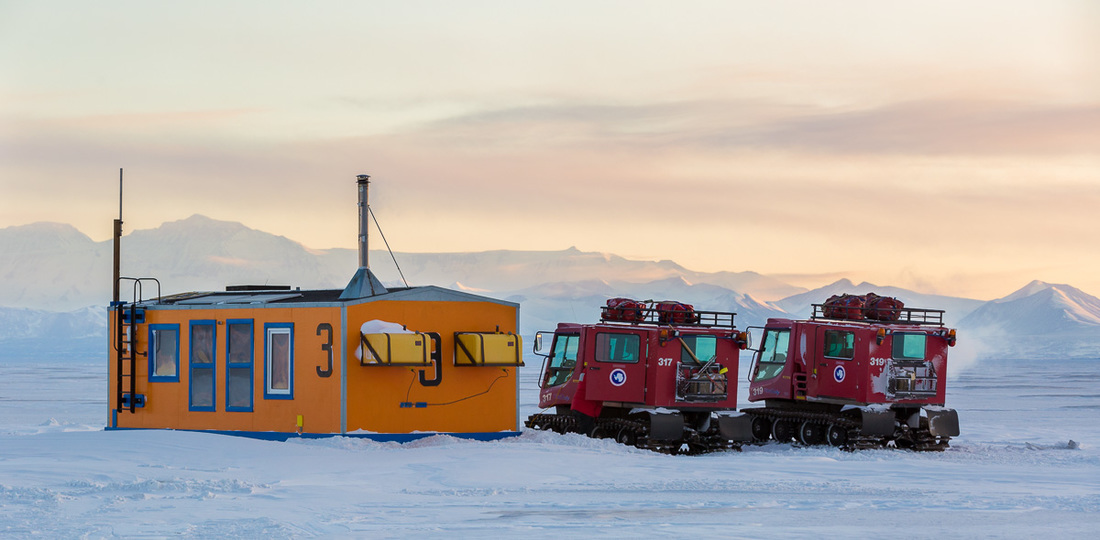 Our Pisten Bullies sit beside our borrowed fish hut on sea ice in McMurdo Sound. (photo: Peter Kimball)
We drove happily back to town after our wonderful day at the fish hut. Driving the Pisten Bullies is super fun, and I got to drive one back to town this evening. Mt Erebus emerged from behind low clouds as we rolled toward town – a beautiful finale to a great day on the ice.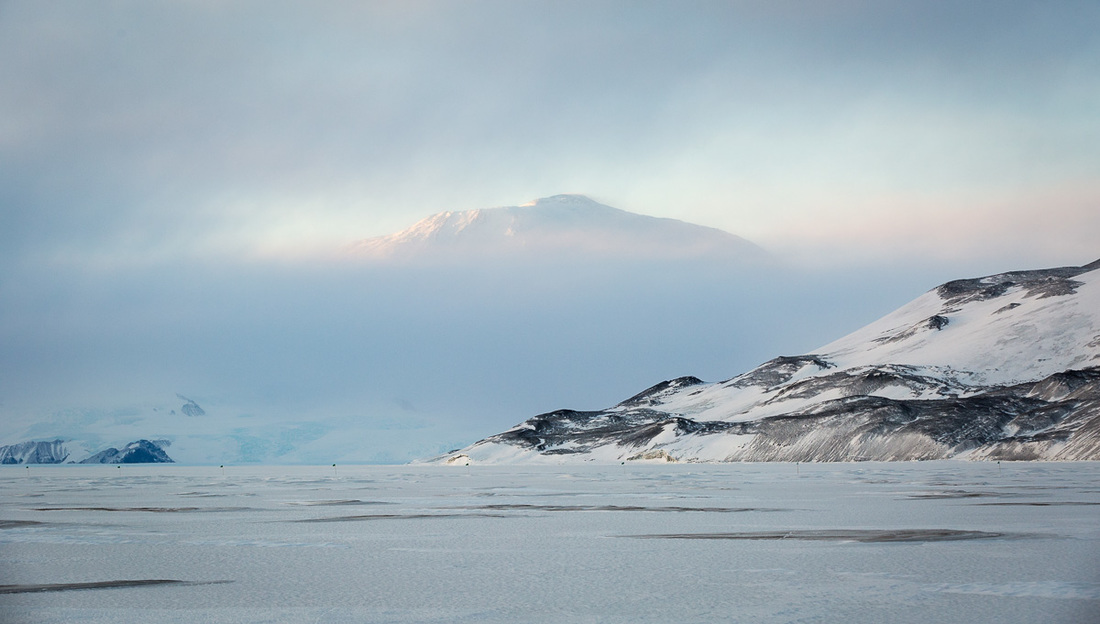 Mt Erebus emerges into view with Hut Point Peninsula and McMurdo Sound sea ice in the foreground. Small green flags mark a USAP sea ice route. (photo: Peter Kimball)
Reporting by Peter Kimball