Scouting the Ice Shelf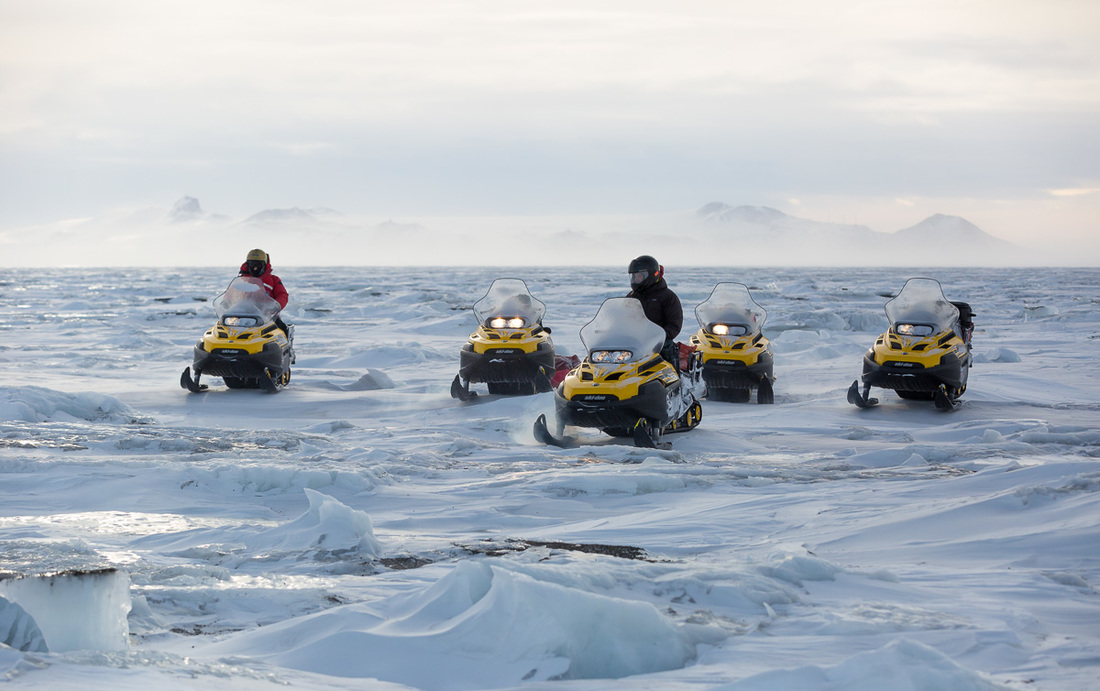 Alasdair and Josh wait for the rest of us to return to our snowmobiles for the trip back to our field site. (photo: Peter Kimball)
Once ARTEMIS science operations begin, we will need to send personnel over the surface with tracking equipment to obtain GPS measurements of the robot's position. Britney, Justin, Josh, and I headed out on snowmobiles with Alasdair (a USAP sea ice safety expert) to scout the area of the ice shelf where surface travel will be the most difficult. We rode approximately due West from our field site.
What we learned was encouraging. The shelf ice was very smooth for nearly 8 km. After a very sudden transition, the ice beyond that point is very rough with wind ablation features. Those features are dense enough, and high enough that snowmobile travel will be very slow, and Pisten Bully travel will be impossible beyond that transition. the encouraging bit is that the first 8 km are so smooth – smooth enough to travel in a Pisten Bully. The range of ARTEMIS is 10 km, so we'll have fairly easy surface tracking, even to the worst-case West for most of the vehicle range.
The wind was out of the East, so when we turned around to travel back to the site, we were heading straight upwind, and our comfort level plummeted. Tuesday was very cold. Wind speeds were high and forecasted to continue increasing. We would have liked to scout along more directions from camp, but we made the call that the cold and wind made it too dangerous for us to stay out. I also would have liked to take more photos out there, but the thermal cost of going down to only two glove layers for photography was quite high, so I only took a few.
We'll do more scouting on a warmer, calmer day, but learning what we learned Tuesday has taken some pressure off and made us feel fairly confident about our surface operations.
Reporting by Peter Kimball