West Lake Bonney, Taylor Valley, Antarctica
Reporting from East Lake Bonney Basecamp
We awoke to the sound of tents fluttering madly in 25 knot + winds—katabatics coming down the valley. The temperature rose to 3C (37F). Bill prepared the mission plan this morning, an ambitious 22 sonde casts to mop up the entire southwest quadrant of the lake. While this was underway Vickie pulled the sonde flags from the November 9 and 11 missions and she and Rachel re-labeled them for today's run.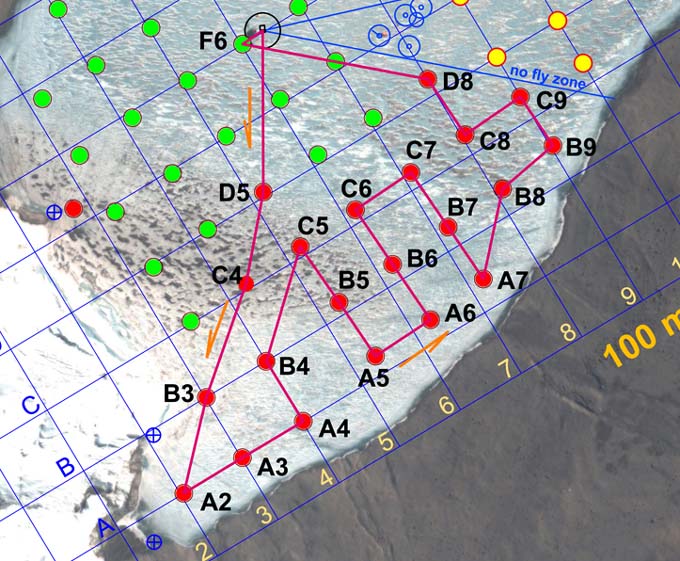 Mission plan for November 16 called for another ambitious sonde cast run to clean up the southwest quadrant of the lake.
Meanwhile, the strong winds played havoc with our melt hole wind screens, lifting up and tossing heavy ballast ice into the hole that had been piled on the sheets. Vickie and Kristof went to work and re-anchored the ends of the flaps (seen as the yellow colored panels on the four sides of the moon pool access port in previous photos) using ice screws and some clever rigging tricks Vickie had picked up on other expeditions.
Project PI, Peter Doran, arrived on a helo flight at 11am, in time to participate in the team meeting. By 12:33pm the vehicle was underway. It returned at 6:35pm in a textbook mission, acquiring all 22 casts: D5, D8, C4, C5, C6, C7, C8, C9, B3, B4, B5, B6, B7, B8, B9, A2, A3, A4, A5, A6, A7, and F6 without incident. The latter station is included in all missions as a time varying measure of lake activity over the season. Total distance traveled underwater today was 2.7 kilometers with an in-water run time of 6 hours. We still had more than 40% power reserves at the conclusion of the mission.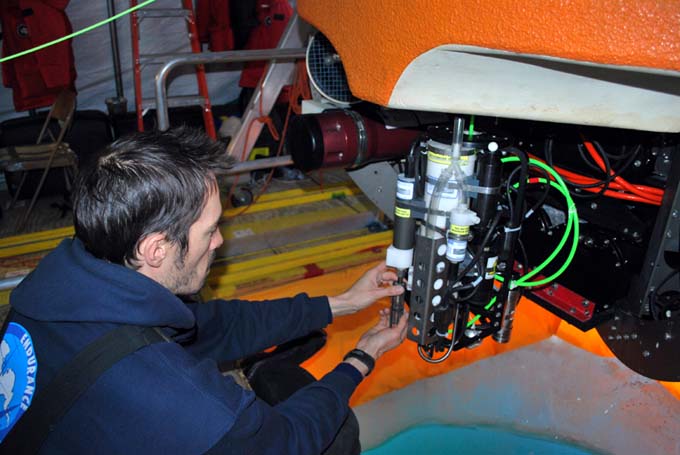 Kristof preps the pH sensor on the sonde before launch.
Vickie locks in on the bot position for the 22nd sonde cast of the day.
After being with us during the tedious start-up phase for six weeks, SAS chief engineer Bart Hogan began the long return to the US and his family today, hopefully arriving in time for Thanksgiving. Given the substantial changes and improvements made to the hardware and software on ENDURANCE over the past year, Bart's presence on the field team was of enormous benefit. Thanks Bart!
SAS engineer Bart Hogan leaves the valley after six weeks on the ice.
Sonde cast progress at the conclusion of the November 16 mission.
Reporting by Bill Stone